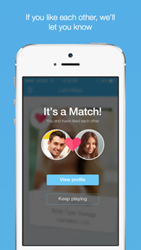 Los Angeles California (PRWEB) September 24, 2015
PositiveSingles.com, the online dating website for people with sexually transmitted diseases (STDs), including herpes (HSV-1, HSV-2), HPV and HIV/AIDS, announces a major update to their Tinder-style "Let's Meet" dating app for iOS devices. The new update now allows users to find their true love easier, with the potential to meet in-person the same day.
The "Let's Meet" feature on the app previously showed members two potential matches at a time, allowing them to select only one. The new improvements now feature one photo at a time, greatly increasing the chances of matching with a potential mate. In the six days since the launch of the new improvements, over 90% of users have successfully matched with other members utilizing the app, compared to 20% before the changes were made. The statistics are expected to increase as improvements roll out for Android users.
PositiveSingles.com is the premier online dating site and app for persons with STDs. With over 990,000 members and increasing each day, PositiveSingles.com offers a place for people of any race, creed or sexuality to meet their romantic match without the stigma of disease.
In addition to matchmaking services, all members have access to interactive chat rooms; however, only premium members can initiate conversations within the app. All other members can respond to messages sent to them, without the need to upgrade. The site also offers STD treatment resources and inspirational stories, as well as blogs and an online STD counselor. Not only can they potentially find their soulmate, members can also find help and support in a safe, knowledgeable community.
Mobile apps are increasingly becoming the preferred method of match-making. In the first half of 2015 alone, 91 million people internationally utilized dating apps to meet potential love matches. Combined with the fact that in the US alone, the CDC estimates there are 110 million STD-infected individuals, the timing and market potential for PositiveSingles seems right on.
"Dating apps need to constantly change to fit the needs of their members," says Brian Smith, Marketing Manager of PositiveSingles. "PositiveSingles' new improvements aim to make finding matches not only easier, but more enjoyable as well. We listened to what our members wanted and built an app that reflects those needs."
PositiveSingles' apps can be found in both the Apple App Store (https://itunes.apple.com/app/positivesingles-pro-std-dating/id975465366?mt=8) and Google Play (https://play.google.com/store/apps/details?id=com.mason.positivesingles).
About PositiveSingles
Founded in 2001, PositiveSingles is one of the top dating networks on the web. Based in Ontario, Canada, PositiveSingles.com won the Online Dating Golden Heart Consumer Choice Award in 2014. For more information, visit http://www.positivesingles.com.