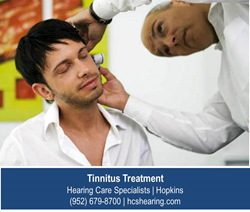 Hopkins, MN (PRWEB) March 18, 2014
Nearly 50 million US citizens between the ages of 60 and 75 are experiencing a hearing disorder generally known as tinnitus. The main symptom of ringing in the ears, which disturbs a great deal more men than women, is hearing tones which nobody else can hear. Tinnitus is generally not considered a disease in itself but a symptom of something else taking place in one or maybe more of the four portions of the auditory system - the outer ear, the middle ear, the inner ear, and the brain. Although not a type of hearing loss by itself, it can be connected to other forms of either conductive or sensorineural hearing loss. Yet since tinnitus can cause individuals to hear the buzzing or ringing sound continuously, this can have the effect of lowering a person's absolute threshold of hearing, which makes it much harder to hear low-level sounds normally.
Considering that tinnitus is such a widespread issue in the U.S. and in Hopkins, MN specifically, the audiologists at Hearing Care Specialists are constantly researching new treatment procedures. Tinnitus cure research is a very active field with many scientific studies and trials conducted annually. This means that people who've lived with tinnitus for an extended time may not be always be aware of the newest solutions. Being able to offer the most current tinnitus treatment options locally in Hopkins, MN is a source of pride for the audiologists at Hearing Care Specialists. As part of that effort they've compiled a list of tinnitus treatments on their website and often blog about fresh breakthroughs in the area of tinnitus research. More information about the tinnitus treatment options in the subsequent list is readily available on the Hearing Care Specialists website or by appointment.
Hearing aids. Tinnitus patients typically also have some level of hearing loss. The double benefit of hearing aids is that they cover the sounds of the tinnitus while also improving hearing ability. Tinnitus patients using hearing aids often report partial or complete relief of tinnitus symptoms.
Relaxation and Counseling. Relaxation methods are vital for tinnitus sufferers because stress tends to make tinnitus seem even worse. Other than learning to relax, working with a counselor for tinnitus-induced depression or anxiety can be quite helpful.
Drug Therapies. Medications and drug therapies have two functions in tinnitus therapy. Some drugs offer direct relief from the tinnitus symptoms while others are meant to target the depression and powerful emotions affiliated with tinnitus.
Maskers. Hiding (or masking) the sounds of tinnitus can be achieved through an electronic tinnitus masker. Like hearing aids, they offer tinnitus relief, but won't improve hearing and may interfere with speech comprehension.
About Dr. Kurt T. Pfaff, AuD:
Dr. Kurt Pfaff, Au.D. grew up around audiology because his father owned and operated a local hearing aid clinic. Dr. Pfaff earned his undergraduate degree in Communicative Disorders from the University of Tulsa and his Master's Degree in Audiology from Central Michigan University. He received his Doctor of Audiology Degree from the Arizona School of Health Sciences. Dr. Pfaff is a Minnesota Licensed Audiologist and is a member of the National and State associations of the AAA (American Academy of Audiologists) and the ADA (Academy of Doctors of Audiology).
About Hearing Care Specialists
Hearing Care Specialists provides full audiology services, hearing tests and hearing aids in Hopkins, Glencoe, Watertown Minnesota. The practice is dedicated to ongoing professional improvement and the entire staff works relentlessly to stay up-to-date with the latest improvements and developments in the hearing industry. The audiologists at Hearing Care Specialists understand that every patient is unique with individual needs and is dedicated to working with each person as an individual to evaluate and understand the cause and extent of their hearing loss and help them find the best hearing aids or other solutions to restore hearing ability.
Contact:
Hearing Care Specialists
http://hcshearing.com
Hearing Care Specialists
10417 Excelsior Blvd., Ste 2
Hopkins, Minnesota 55343
(952) 679-8700
Hearing Care Specialists
1130 Hennepin Ave N
Glencoe, Minnesota 55336
(320) 300-4852
Hearing Care Specialists
200 Lewis Ave S., Ste 220
Watertown, Minnesota 55388
(952) 679-8699