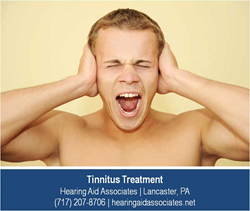 Lancaster, PA (PRWEB) March 18, 2014
Ringing in the ears (tinnitus) is a hearing ailment that impacts approximately fifty million US citizens between 60 and 75 years of age. More common in men than women, the principal characteristic of ringing ears is hearing tones which no one else can hear. Tinnitus often indicates a condition taking place within the four portions of the auditory system - the outer ear, the middle ear, the inner ear, and the brain - and consequently is more of a sign of other conditions than just a disease in itself. Tinnitus more frequently appears as a co-symptom related to other kinds of either conductive or sensorineural hearing loss, as opposed to being a kind of hearing loss by itself. In addition, because tinnitus fills the ears with a continuous base level of ever-present sound, it diminishes the absolute threshold of hearing and means it is challenging to listen to weak sounds "over" the constant buzzing or ringing.
The hearing health professionals at Hearing Aid Associates in Lancaster PA are constantly investigating new tinnitus treatment options to make them locally available. Tinnitus cure research is a very active field with many studies and research trials completed annually. This means that long-time tinnitus sufferers may not always be aware of the current options available. Hearing Aid Associates takes pride in offering the most up-to-date tinnitus treatments in Lancaster PA. To better disseminate tinnitus therapy information they've compiled a list of tinnitus treatments on their website and often blog about fresh developments in the field of tinnitus research. Readers interested in further details about the treatments listed below are encouraged to visit the website at http://hearingaidassociates.net or call for an appointment.
Hearing aids. People with tinnitus generally also have some amount of hearing loss. Hearing aids create a double benefit of improving hearing and covering up the tinnitus. Partial or complete respite from tinnitus symptoms is achievable with hearing aids.
Counseling and Relaxation. Learning how to relax is very helpful if the noise in your ears irritates you. Stress makes tinnitus seem worse. Counseling can be appropriate when tinnitus leads to depression, anxiety or other psychiatric problems.
Maskers. A tinnitus masker is a tiny electronic device that generates sounds of its own to cover up (or mask) the tinnitus. Tinnitus maskers are an excellent option for many people, providing relief from the tinnitus. However, they have been known to affect comprehension of speech.
Drug Therapies. Medications and drug therapies have two roles to play in tinnitus treatment. Some medications offer direct reduction in the tinnitus symptoms whilst others are meant to target the depression and powerful emotions affiliated with tinnitus.
About Hearing Aid Associates:
Hearing Aid Associates is one of the most reputed hearing healthcare service providers in Pennsylvania with nine locations. Hearing Aid Associates has provided hearing aids to the Southeastern Pennsylvania area and its surrounding communities for over 10 years. The company offers a full range of diagnostic and preventative hearing healthcare professional services, including hearing aid screening, evaluations, hearing aids sales and rehabilitative and preventative counseling. The staff is dedicated to keeping abreast of the latest improvements in technological advancements in the hearing industry and is committed to offering the most current options to our patients. There are currently 9 Hearing Aid Associates locations in Boyertown, Cleona, Kennett Square, Lemoyne, Palmyra, Phoenixville, Pottstown, Reading, Lancaster.
Contact:
Ed Grabarek
http://hearingaidassociates.net
Hearing Aid Associates
115 E. Main St
Palmyra, PA 17078
(717) 473-4160
Hearing Aid Associates
6 Hearthstone Ct, Suite 105
Reading, PA 19606
(610) 816-6024
Hearing Aid Associates
1610 Medical Dr, Ste 103
Pottstown, PA 19464
(610) 482-4164
Hearing Aid Associates
1220 Valley Forge Rd., Suite 1B
Phoenixville, PA 19460
(484) 985-4029
Hearing Aid Associates
35 North Walnut St
Boyertown, PA 19512
(484) 334-2595
Hearing Aid Associates
1520 Commerce Drive,
Lancaster, PA
17601
(717) 207-8706
Hearing Aid Associates
211 West Penn Avenue
Cleona, PA 17042
(717) 685-4115
Hearing Aid Associates
305 W State St #2
Kennett Square PA 19348
(610)-400-1408
Hearing Aid Associates
20 N. 12th St., Suite 341
Lemoyne, PA 17043
(610) 816-6020