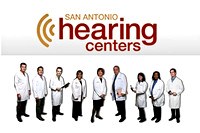 The San Antonio Hearing Centers is a patient's first stop in improving hearing.
San Antonio, TX (PRWEB) July 07, 2013
One of America's most experienced teams in hearing improvement introduces a new tool to fight the awful and disruptive symptoms of ringing in the ears. San Antonio Hearing Centers proudly rolls out the Serenade.
Millions of Americans suffer from tinnitus, more commonly known by its distinctive "ringing in the ears." While the sounds people may hear vary from whooshing to ringing, there has been a distinct lack of treatment options offered to patients. Many have been told to "just live with it." Virtually all cases of tinnitus, which affects 1 in 10 Americans, are related to damage of the auditory system and require treatment. San Antonio Hearing Centers have been successfully offering tinnitus treatment for years. Now they have a new tool in their arsenal to fight this condition.
Serenade is a hand held device that is designed to treat the neurological causes of tinnitus. Consisting of the handheld device, headphones, and proprietary treatment sounds, Serenade is customized to each individual patient for maximum impact. At San Antonio Hearing Centers, a trained audiologist evaluates the patient, diagnoses and appraises the tinnitus, and programs the Serenade device to play sounds that are likely to be the most effective in treating the individual patient.
San Antonio Hearing Centers are very excited to add this revolutionary technology to their line of therapy options so that they can continue to treat, and effectively improve, the quality of lives of patients suffering from tinnitus. Serenade is a customizable solution so results can be far more effective. It is based on safe and FDA approved technology, and it utilizes S-Tones which are new treatment sounds. S-Tones are therapeutic sounds developed by a leading independent research university. Another advantage for patients is the size of the Serenade, it is small and portable making it easy to carry and store. It has sleep assistance programmable sounds that can help lull a patient to sleep, and each device includes 4 different tracks so that the patient can select the one which works for them without having to revisit the audiologist. San Antonio Hearing Centers' website has more information on the Serenade, and also offers customers a large number of tools to evaluate their hearing or simply improve their quality of hearing.
The San Antonio Hearing Centers is a patient's first stop in improving hearing. San Antonio Hearing Centers is using the latest tools to make a difference in the world of audiology and improving people's quality of life.
About Debby Taylor, HIS
Debby Taylor is nationally Board Certified in Hearing Instrument Sciences (BC-HIS) and has advanced training on all major hearing aid circuits. She is licensed in the State of Texas, is a member of the Texas Hearing Aid Association and a member of the International Hearing Society. Taylor enjoys hosting community seminars and lectures for consumers and providing complimentary hearing and balance screenings in assisted-living homes and at health fairs.
About San Antonio Hearing Centers:
San Antonio Hearing Centers was established to provide patients the best possible hearing care based upon their individual needs. The company provides a full array of services related to prevention, evaluation, and rehabilitation of hearing impairment. With respect and compassion, San Antonio Hearing Centers will actively listen to how hearing loss has affected the quality of each new patient's life. The company is committed to removing the barriers between the client and the professional to collaboratively work toward better hearing and understanding. San Antonio Hearing Centers has 5 locations and 6 Hearing Instrument Specialists to serve you. Four locations throughout San Antonio and one in New Braunfels.
Contact:
Debby Taylor
http://www.sahearingcenters.com/
San Antonio Hearing Centers
8003 Broadway St
San Antonio, TX 78209
(210) 428-6900
San Antonio Hearing Centers
12413 Judson Rd, Ste 200
San Antonio, TX 78233
(210) 485-1996
San Antonio Hearing Centers
510 Med Court, Ste 203
San Antonio, TX 78258
(210) 390-0899
San Antonio Hearing Centers
8600 Wurzbach Road, Suite 500
San Antonio, TX 78240
(210) 390-0839
San Antonio Hearing Centers
628 B South Business 35
New Braunfels, TX 78130
(830) 387-2389