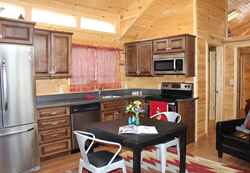 Our Tiny Homes are really a place to call home
Gap, PA (PRWEB) February 29, 2016
When Sheds Unlimited began building storage sheds in White Horse over twenty five years ago, they never dreamed that the typical Amish sheds would turn into their latest addition of Tiny Homes built from their premier line of storage sheds. It all began with simple storage sheds and garages built on the family farm in White Horse, a small village in the heart of the Lancaster, PA Amish Country. The business slowly progressed to include more and more options in storage sheds for sale direct from their family farm in PA. Years later, the addition of a Premier line of Amish Sheds prepared the way for the newest addition of tiny homes now on display at their PA based manufacturing facility.
The Tiny House movement is an exciting and growing phenomenon in the USA. Millennials ready for a simpler life are joining the "less is more" movement with great interest. Sheds Unlimited is joining the excitement with a line of Tiny Homes for folks in the northeastern part of the USA. Sheds Unlimited company executives say they have chosen to call their storage shed turned houses "Tiny Homes" for a reason. "Our Tiny Homes are really a place to call home," reports marketing manager, and former manager of this family business. They are more than portable tiny homes even though they are small and portable.
Several things set apart the Sheds Unlimited Tiny Home line. First, is the lack of wheels as found in most tiny houses and mobile homes. These tiny homes are built for a foundation or a concrete pad making them more of a permanent small home solution. Tiny Homes built on the Sheds Unlimited sheds for sale in PA footprint also offer more interior space than most portable tiny houses. A visit to the Sheds Unlimited tiny home manufacturing facility and you will find a 490 square foot Tiny Home with a large kitchen, bathroom, loft for sleeping and a bedroom with a walk in closet and a queen bed. The entrance offers a wide open area that feels very inviting and enjoyable.
According to their Tiny Home website, buying a tiny home is simple. Simply choose a storage shed model and work with the Sheds Unlimited Tiny Home Design Team to get it just like you want it. While there are standard features included in their basic tiny home models, there are plenty of options when designing a tiny house for personal use.
Another great feature of their Tiny Home division is the option of buying a storage shed for sale from their line of products where the end user will finish the storage shed small home themselves. The tiny house shell will come with an insulated floor and a few other features to make finishing this tiny house shed easier to accomplish. Not sure where to begin? Sheds Unlimited offers a preparation guide to get started answering the questions involving the process of getting your tiny house in place.