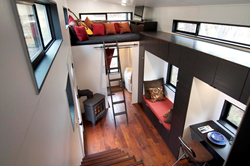 In living in the most opulence and in the largest home, we felt the most restricted and stressed. In contrast, in living in the tiniest space and the most simply, we found true freedom and joy.
Ashland, OR (PRWEB) April 18, 2014
Americans are drowning in debt. In fact, a recent study from GoBankingRates, which tracks interest and banking rates nationwide, found the average American's debt burden is $225,238. When one considers that the average cost of building, a single family residence in the US in 2013 was $236,453 according to the NAHB, it's easy to see why this nation's current debt and housing crisis exists. To provide an alternative to this plight, the husband/wife team of Andrew Morrison and Gabriella Morrison at TinyHouseBuild.com challenged themselves. They sought to create a home design that incorporates all the amenities of a full sized house but in a tiny, more economical scale. The result of this endeavor -- "hOMe" -- is a 221SF modern tiny house on wheels. It took four months to build, and cost Andrew and Gabriella $22,000 ($33,000 with the cost of high-end appliances, cabinetry, and furniture included). Now for the first time ever, the architectural plans for hOMe are being released for sale on TinyHouseBuild.com.
The inspiration behind hOMe's leading-edge design was a personal journey for the creators. Andrew and Gabriella have owned a variety of different houses: from the "American Mc Mansion," to a tiny pop up tent trailer in Mexico, and everything in between. These experiences have led them to a surprising realization: the larger the space, the more burden comes with it. Gabriella shares, "In living in the most opulence and in the largest home, we felt the most restricted and stressed. In contrast, in living in the tiniest space and the most simply, we found true freedom and joy."
hOMe's architectural plans are build-ready, and have been engineered and professionally drawn up. The plan's package includes a full SketchUp model of hOMe, allowing the home builder to make custom modifications within SketchUp. One of the key features that sets hOMe plans apart from other tiny house plans on the market today is the attention to detail. These plans have been painstakingly edited by seasoned professionals in three fields; engineering, construction, and architecture. This ensures the plans are accurate, use safe building techniques, and follow industry best standards. The hOMe building system was designed with the novice builder in mind.
When asked what it's like to live in a hOMe, Gabriella shares, "To our surprise we have not felt, at any point, that we have had to make any compromises or sacrifices in living in our tiny house. Living in hOMe has instead been an extremely rewarding and enriching experience. It has brought us closer together as a family and allowed us to do things that we love with the extra money we save each month in not having to pay for housing."
Andrew and Gabriella Morrison have devoted their professional lives to the art of building and teaching people how to handcraft their own homes. Since 2006, they've had the honor of teaching over 1,200 people at their various workshops. They have seen, again and again, the profound transformation that happens when one becomes empowered by learning how to build their own home. Offering hOMe's plans to others is a natural extension of their passion: to help the world build attractive, cost effective and efficient housing. With the hOMe architectural plans Andrew shares, "One can take a very powerful step towards creating a life in which debt doesn't rule and the priority instead becomes happiness and peace."
View a quick video tour of hOMe on YouTube
The hOMe tiny house architectural plans will be released for sale on TinyHouseBuild.com starting Friday, April 18.