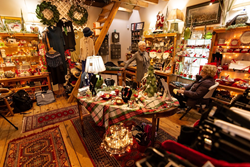 Anything you see in here is for sale. I've even sold the clothes off my back!
HOPEWELL, Va. (PRWEB) November 27, 2018
Carolyn Hoagland is a volunteer who manages what may be the tiniest boutique in the State of Virginia. Named "All Manor of Things," the boutique is housed in a 16' x 20' reconstructed outbuilding at Weston Manor, an 18th century plantation here.
"All Manor of Things" is open seven days a week: 10 am to 4:30 pm Monday through Saturday, and 1:00 pm to 4:30 pm Sunday at 400 Weston Lane, Hopewell. Merchandise pricing runs from fifty cents and one dollar up to $200.
True to its name, "All Manor of Things" gift shop is more than the traditional gift shop tourists will find at other historic plantations. The gift shop includes designer ladies' apparel (tops and tunics, leggings, ponchos and sweaters by Clara Sunwoo), Looksun jewelry made in Paris, silk scarves from India, baby items, gifts, home accessories, custom glass work and pewter, seasonal decorations and even a savory dip mix for crackers.
A retired math teacher, Hoagland found her calling with this gift shop. She moved the shop from the cellar of Weston Manor to the reconstructed outbuilding, added to the type of merchandize offered and organized a cadre of 80 local ladies as volunteers, each of whom works a half day a month in return for a 10% discount on the merchandise. Jane Pettler is Hoagland's assistant and helps select merchandise with Hoagland on her buying trips to Atlanta, New York, Dallas and Virginia Beach. The activities in the shop support the mission of the Historic Hopewell Foundation, which owns and operates Weston Plantation. Proceeds benefit Weston Manor and are used for maintenance and repairs.
Weston was built in 1789 on the Appomattox River. Listed on the National Register of Historic Places, Weston Manor is considered a classic example of Georgian architecture. Much of its original interior has been preserved and the house has been furnished with antiques from the period as well as selected reproductions. Along with the main house, the plantation also includes two reconstructed outbuildings, a kitchen and laundry.
Hoagland was asked to come work in the gift shop in 2006. She had no retail or marketing training, but she had a sense of style and, as it turned out, a knack for selling.
"I can either sell one lamp or 1,000 pencils," she told the board of directors.
Hoagland proved her case when she went to a gift show in New York with her sister, who ran a gift shop in Connecticut. With $500 to spend, Hoagland met a representative from Sadack gifts and accessories, who came down to Hopewell to help her get started. The sales rep wrote an initial order for $1200. Hoagland said that would never fly with her board of directors; so the sales rep divided the order into lots of $250. "The merchandizse flew out of the shop," Hoagland said.
Hoagland herself epitomizes the boutique. She wears what she sells. On a recent weekday she came into the shop wearing a grey wool tunic with black velvet leggings and knee-high boots. She accessorized her outfit with a handmade silk and cotton scarf in shades of white, gray and black.
"Anything you see in here is for sale," said Hoagland. "I've even sold the clothes off my back!" One customer liked the outfit Hoagland was wearing, which was a size medium. There was another copy of the outfit in a size small. The customer tried on the outfit and it didn't fit. She asked if Hoagland would try the smaller size and sell her the medium. Hoagland tried on the smaller size. It fit and she sold the lady the outfit off her back!
PLAN YOUR VISIT TO HOPEWELL
Weston plantation is just around the river's bend from City Point, the oldest part of the City of Hopewell, dating back to 1613. Civil War buffs will recognize City Point as the site of the headquarters of General Ulysses S. Grant during the Siege of Petersburg in 1864-65 – a scene depicted in the Lincoln movie filmed here in 2011.
While you're in Hopewell, you may want to have lunch at the Boathouse at City Point. You may also want to plan a walking tour of the City Point area. Weston Plantation and its grounds are open year-round. Individual guided tours and group tours are available. Also, the site may be reserved for weddings and other special events. For more information, contact the Historic Hopewell Foundation at or call 804-458-4682.
To plan other details f or your trip, please contact the Hopewell and Prince George, VA, tourism office at https://www.hpgchamber.org/visitor-center or 1-800-863-8687. Travel advisers will be happy to share details on accommodations, historic attractions, food, musical performances and entertainment in and near Hopewell and Prince George, Virginia, just 20 miles south of Richmond, Virginia.