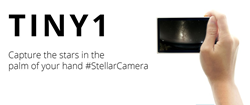 Right from the beginning, our aim has been to grow the astronomy community and allow more people to experience the excitement and wonderment of imaging the night sky. - Grey Tan, TinyMOS CEO
(PRWEB) May 11, 2016
TinyMOS announced that Tiny1, the world's smallest, smartest and most social astronomy camera, will be launched on the popular crowdfunding website Indiegogo on ­­6th June 2016.
In addition to pre-ordering the Tiny1 camera, users can download the TinyMOS demo app from Google Play Store starting today, to experience the advanced camera features such as an Augmented Reality Star Map.
Tiny1 camera has been making waves since the first look was released in September 2015 at Tech Crunch, San Francisco. Tiny1 removes the need for heavy and complex astronomy equipment such as the telescope, so that the everyday person can get started with the basic kit. It was described by former JPL scientist Dr Bidushi Bhattacharya, as "Hubble in your hands".
"Launching Tiny1 through crowdfunding was a conscious choice," said Grey Tan, TinyMOS' CEO. "Right from the beginning, our aim has been to grow the astronomy community and allow more people to experience the excitement and wonderment of imaging the night sky. Crowdfunding allows the community to contribute and play a part in the process."
The all-new app, called TinyMOS Demo, mimics the user interface that will be seen on the Tiny1 astronomy camera. The app has an Augmented Reality Star Map, which helps users search for and point towards planets and constellations. This will be a boon for people who are new to astronomy and do not know where to point at in the night sky.
"Users will also be encouraged to provide feedback and suggest improvements on the camera software, involving them one step further in Tiny1's development," said Lih Wei Chia, TinyMOS' CTO.
The app is currently only available on Android OS smartphones.
Download link - https://goo.gl/tK941b
The pre-order price of Tiny1 will be less than USD500. Signing up allows you to get 50% off retail price.
Sign-up link - http://tinymos.com