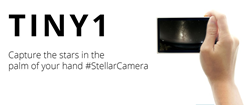 We looked at this bald hill. We pointed at it and we headed up and somehow ended up at the peak in typical Land Rover fashion. - Adrihazim Rashid, Land Rover Defender owner
(PRWEB) June 06, 2016
Singapore startup TinyMOS worked with Land Rover in their latest series of Defender tribute film series - Unfinished Journeys, results in epic film in unprecedented fashion.
TinyMOS founder Grey Tan saw Land Rover's call for participation in the Defender tribute, where Defender owners help people complete their unfinished journeys.
TinyMOS was due to launch the world's smallest astrophotography camera and needed to achieve a proof of theory test on their groundbreaking sensor and processing technology. With no easy access to pristine dark skies, Grey took a chance and it paid off handsomely with the Tiny1 camera finally coming to market on the Indiegogo platform.
Titled, Chasing Darkness - the 2 minutes 44 seconds short film showcased outstanding cinematography and camera work, giving an emotional and nuanced insight into the beginnings of an up and coming startup from Singapore.
"Light pollution is a significant problem for astronomers. Finding a pristine dark spot means going out of the city and into rural areas. Often times the best locations are inaccessible. A Defender journey into the wilderness is a dream come true for a city dweller like me," explains Grey on his submission on the Unfinished Journey page.
The creative team from Young & Rubicam received the assignment from Land Rover and immediately began work on the film. "TinyMOS is redefining the future for innovation in exploration and there is no better brand then Land Rover that fully exemplifies the spirit of discovery and adventure," said the lead creative for the project from Young & Rubicam. The team planned a mission to Malaysia, in close collaboration with TinyMOS and Land Rover Owners Club in Malaysia. A video crew was flown in from Dubai to complete the stellar team.
The film featured the team leaving the Kuala Lumpur skyline and into the darkness of rural Mersing. The trusty Defender convoy crossed ditches and rugged logging tracks, to capture the Milky Way, only visible away from city lights. "We looked at this bald hill. We pointed at it and we headed up and somehow ended up at the peak in typical Land Rover fashion," said Adrihazim Rashid, one of the 3 Defender owners in the convoy.
Truly a collaboration across borders, the project showcases what amazing feats can be achieved when united by the spirit of innovation and exploration.
Land Rover owners enjoy an exclusive discount on limited sets of The Tiny1 Camera via the link http://landing.tinymos.com/landrover
About TinyMOS
TinyMOS was founded in April 2014. Its product the Tiny1, described as "Hubble in your hands" by ex-NASA Scientist, is designed to bring astronomy imaging to the masses, by making it simple and affordable. Tiny1 uses advanced sensor technology and patent pending processes to enable assisted capture and processing. The company is crowdfunding on Indiegogo at get.tinymos.com