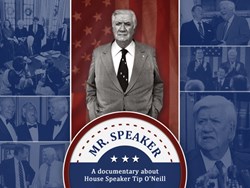 Tip O'Neill was the nation's most prominent, powerful and loyal champion of working people
Los Angeles, CA (PRWEB) August 21, 2013
As an authentic American political figure, Tip O'Neill believed that it was the government's responsibility to improve the lives of all in society, both the rich and the poor. He dedicated his entire political career to bettering the lives of the working class. Creators of the upcoming documentary, "Mr. Speaker,The Life and Times of Tip O'Neill," believe O'Neill's life and legacy are worth honoring, and are asking for the help of the American people to fund the film on Kickstarter.
Even though Tip O'Neill dedicated his political career to building a "safety net," politics today aren't focusing on the working class, and unions today are facing extreme hardships. With union membership at 11.3% and rapidly declining, AFL-CIO affiliates and other unions are struggling to remain relevant.
In the past, politicians, such as O'Neill, were committed to providing adequate health care, decent jobs and reasonable collective bargaining opportunities. Instead of elected leaders advocating for what is best for those they represent, they now are considering cutting pensions and health benefits to fix the nation's debt.
O'Neill spent his 50 years in politics ensuring that the best interests of the underprivileged and unemployed were at the heart of the government. President Clinton said, "Tip O'Neill was the nation's most prominent, powerful and loyal champion of working people," and he was determined to not let them down.
In order to honor this compassionate and decent American political legend, a new documentary depicting Tip O'Neill's life and legacy has launched on Kickstarter. The film, called "Mr. Speaker, The Life and Times of Tip O'Neill" will begin with O'Neill's childhood in working class Cambridge and tell the story of his unlikely rise to become one of the most influential politicians in history. However, to move forward with this documentary, the creators need support, especially from American working men and women.
O'Neill dedicated his career to being the voice for the working class, now it is their turn to remind elected officials that "All Politics is Local" by commemorating his life in this upcoming documentary. Head to the "Mr. Speaker" Kickstarter page, http://bit.ly/TipONeillKS to back the Tip O'Neill film today. Also, be sure to advocate for the documentary by liking and sharing the project on Facebook and Twitter @MrSpeakerDoc.
About "Mr. Speaker"
Founder Tod O'Connor, a former staff member for Tip O'Neill, brought on filmmaker Dimitri Logothetis to produce and direct this documentary. Dimitri Logothetis has excelled in all genres ranging from dramas to action and thrillers. His documentary work is world-renowned, with his last documentary "MOMO: The Sam Giancana Story" having recently won the Best Featured Documentary in the Monaco Film Festival. To learn more about "Mr. Speaker," head to http://bit.ly/TipONeillKS and connect on Facebook and Twitter @MrSpeakerDoc.