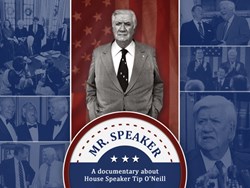 In contrast to today's politics Tip authentically cared as much about his family, friends, his constituents and the working class as he did about the national issues of the day
Los Angeles, CA (PRWEB) September 04, 2013
When Tip O'Neill died in January 1994, people from all walks of life waited three hours in line outside the Massachusetts State House in the bitter cold, days after a major blizzard, to pay their last respects. When he retired he had earned an approval rating of 86 percent from the American people and at a major fundraiser for Boston College in 1986 President Reagan asked Tip for the "honor of calling him his friend."
Tip O'Neill began his political career in 1936, and spent his next 50+ years working to truly make a difference in the lives of the working class. Now, considered one of America's most influential and popular politicians, his life and legacy will be honored in the upcoming documentary, "Mr. Speaker." With just six days left in their grassroots campaign to fund the film on Kickstarter, the creators need help spreading word about the Tip O'Neill documentary.
With Congress returning on September 9th, with an approval rating between 10 and 12 percent from the American people, they have to address a variety of issues. Between agreeing with President Obama regarding Syria, funding the government on time and deciding whether to raise the debt ceiling, the 113th Congress must start governing. With approximately 39 legislative days left this year this "least productive Congress" has not dealt with most of these pressing concerns.
However, former Congresses have not always been idle and ineffective; Tip O'Neill's generation is the perfect example of politicians who were determined to make a difference. O'Neill spent over 34 years in Congress dedicated to providing constituent services and continuously putting his career on the line to fight for what he believed was right. Whether it was pushing for the impeachment of President Richard Nixon, defying President Lyndon Johnson over the Vietnam War, or arguing with President Ronald Reagan over civil rights, Social Security, foreign policy and jobs at home, O'Neill never wavered. His dedication to serve made him one of the greatest politicians of this century.
Yet he was able to work effectively with Republicans especially President Reagan, allowing his budget and tax bills to be voted on by the House, and finding consensus on immigration, peace in Northern Ireland and saving Social Security. Tip understood that President Reagan by easily winning two Presidential elections had developed a bond with the American people, which Tip deeply respected.
"In contrast to today's politics Tip authentically cared as much about his family, friends, his constituents and the working class as he did about the national issues of the day," says "Mr. Speaker – The Tip O'Neill Documentary" creator Tod O'Connor. "During his first campaign, Tip's father told him, 'It's not the honor of being elected. It's the good you can do. It's a lot of hard work. Don't get into it unless you are serious.' O'Neill carried those words with him throughout his career."
The "Mr. Speaker" documentary will tell more than just the life story of how Tip O'Neill went from being a child of a working class family during the Great Depression to becoming one of America's most influential politicians. It will be a lesson of why we as a nation should expect more from our elected officials.
However, in order to move forward with the documentary, the creators need help funding the film. With just six days left to reach their Kickstarter goal, anything fans of Tip O'Neill can do to help support the "Mr. Speaker" documentary would be greatly appreciated. From backing the project on Kickstarter to liking the documentary on Facebook to sharing the news about "Mr. Speaker" on Twitter @MrSpeakerDoc, it would make a huge difference in moving forward with the Tip O'Neill documentary.
About "Mr. Speaker"
Founder Tod O'Connor, a former staff member for Tip O'Neill, brought on filmmaker Dimitri Logothetis to produce and direct this documentary. Dimitri Logothetis has excelled in all genres ranging from dramas to action and thrillers. His documentary work is world-renowned, with his last documentary "MOMO: The Sam Giancana Story" having recently won the Best Featured Documentary in the Monaco Film Festival. To learn more about "Mr. Speaker," head to http://bit.ly/TipONeillKS and connect on Facebook and Twitter @MrSpeakerDoc.