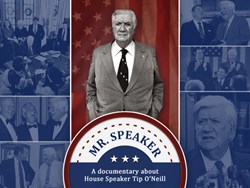 The upcoming documentary, 'Mr. Speaker,' will serve to both honor O'Neill's legacy and be a lesson of why we, as a nation, should expect more from our elected officials
Los Angeles, CA (PRWEB) August 28, 2013
Throughout his 50+ year career in politics, Tip O'Neill was well known for being an effective advocate for the working class. He was determined to do everything in his power to ensure the government kept their best interests in mind. Now, as Labor Day is right around the corner, the "Mr. Speaker" documentary about the life and legacy of Tip O'Neill needs the support and recognition on Kickstarter that this influential man deserves.
Labor Day was originally created to serve as a tribute to the hard work and sacrifice that workers have made to better the country. After the deaths of workers during the Pullman Strike in 1894, the United States Congress declared the first Monday in September a national holiday to honor their lives. As the number of union members continues to steadily decline, it is important to remember the true reasons and motives behind Labor Day. Tip O'Neill, who grew up in a working class family during the Great Depression, never forgot this true meaning during his 50+ years in politics.
"I began my political career in 1936 on a slogan of 'work and wages,'" said O'Neill in his autobiography, "Man of the House." "Today more than half a century later I'm still a bread and butter liberal who believes that every family deserves the opportunity to earn an income, own a home, educate their children and afford medical care."
O'Neill didn't wait for Labor Day to honor the working class; throughout his entire career, he was dedicated to giving the working people affordable healthcare, better educational opportunities and decent working conditions. He was the voice for the "blue collar," underprivileged and unemployed, always looking out for their best interests.
"Tip O'Neill stayed true to his principles of trying to improve the lives of the working class while finding ways to find common ground with President Reagan on a number of issues," says former O'Neill staff member and "Mr. Speaker" documentary founder, Tod O'Connor. "He was driven to make the American dream affordable and attainable for all. The upcoming documentary, 'Mr. Speaker,' will serve to both honor O'Neill's legacy and be a lesson of why we, as a nation, should expect more from our elected officials."
With just 13 days left to reach his $44,000 crowdfunding goal, founder Tod O'Connor and producer and director Dimitri Logothetis ask for help in honoring Tip O'Neill's life and legacy by encouraging backers to support the "Mr. Speaker" documentary on Kickstarter. Pledge levels range from $10 for a campaign button to $25 for an autographed script of "Mr. Speaker" to $125 for a signed DVD to $250 for documentary launch tickets and more. Head now to http://bit.ly/TipONeillKS to back the "Mr. Speaker" documentary on Kickstarter today, and be sure to connect on Facebook and Twitter @MrSpeakerDoc.
About "Mr. Speaker"
Founder Tod O'Connor, a former staff member for Tip O'Neill, brought on filmmaker Dimitri Logothetis to produce and direct this documentary. Dimitri Logothetis has excelled in all genres ranging from dramas to action and thrillers. His documentary work is world-renowned, with his last documentary "MOMO: The Sam Giancana Story" having recently won the Best Featured Documentary in the Monaco Film Festival. To learn more about "Mr. Speaker," head to http://bit.ly/TipONeillKS and connect on Facebook and Twitter @MrSpeakerDoc.