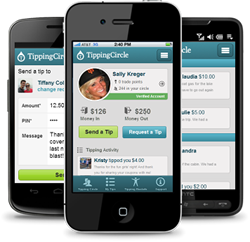 (PRWEB) October 23, 2013
With the guidance of user feedback and mobile payment industry statistics, TippingCircle revamped and recently released a new and improved version of their mobile payments app aiming to change old-fashioned consumer perceptions.
With the growing number of smartphones and tablets around the world, consumers use these mini computers to do almost everything they need while on the go. Mobile devices are often used to capture pictures and video to share special moments. Yet why is the mobile payments industry still lagging behind the adoption curve?
Part of the reason for the slow adoption rate is the mentality that mobile payments are insecure and carry the extra baggage of hidden fees. TippingCircle is determined to change these perceptions with tight security, a straight forward fee structure and the ability to send personal payments for free without fees.
TippingCircle is a social payments platform that connects users with social networks and PayPal. The simple interface of their website and mobile applications makes it easy for friends to exchange money, collect group payments, and support fundraisers for charities. The mobile app is available on iPhone, Android, Windows Phone 8, & Blackberry devices.
While harnessing the power of social networks, TippingCircle connects payments with memories and eases money issues between friends. An example of this is when friends eat out together and share a meal. A few taps on TippingCircle's mobile app gets them squared up along with a friendly message and they no longer need to worry about who owes who and how much. There is also an option to send a tip request with automatic reminders.
As more people stop using cash, there is a growing need for personal payments online. TippingCircle has become a one-stop shop for various types of personal payment methods. Group payments and crowdfunding can be achieved using tipping buckets. These buckets can be shared through Facebook, Twitter, and other social networks to collect payments for birthdays, weddings, sports clubs, and other events. Social fundraisers are helping people pay for medical bills, contribute to local non-profits & charities, and support other good causes.