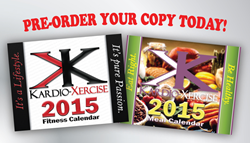 Our goal is to give simple and effective tips by providing efficient and functional tools like the 2015 KX Fitness Calendar.
Rockford, IL (PRWEB) September 25, 2014
For most people, the thought of overhauling their entire lifestyle to become healthier can be very daunting. In fact, it's this mindset that often prevents people from taking the first step to achieve meaningful change. Luckily, when it comes to improving health and fitness, it doesn't have to be all or nothing. All it takes is a few simple changes and a little dedication to start seeing positive change.
The team behind Kardio-Xercise™, a premier lifestyle fitness brand, offers the following five tips for achieving better health. Overtime, these small modifications to a person's daily routine can add up to create big change.
1. Drink plenty of water every day – On average, a person should drink approximately eight, 8-ounce glasses of water each day. Water consumption is vital to keep our bodies functioning properly. People who consume the recommended amount of water on a daily basis can experience a myriad of benefits, including: improved skin tone and texture; naturally suppressed appetite; increased ability to metabolize stored fat; maintenance of proper muscle tone; decreased back and joint pain; and even decreased risk of certain cancers. A tip to get you started – Before you eat or drink anything else upon waking in the morning, drink one tall glass of cold water to jump start your day.
2. Eat several small meals each day – We're all familiar with the basic three meals per day routine of breakfast, lunch and dinner. However, the problem with that model is that people can tend to overeat because they are trying to consume too much food at one time. By adapting your eating habits to include five to seven small, healthy meals each day, you'll experience greater energy levels, and it will become easier to prevent binge eating. Another bonus to eating several small meals each day is that your metabolism will remain steady, allowing your body to burn more calories throughout the day. A tip to get you started – While portion control is key, so is the quality of the food you eat. Choose whole foods to snack on throughout the day, such as fruits, vegetables and nuts.
3. Get enough sleep every night – While sleep needs vary from person to person, it is recommended that adults get seven hours of sleep each night. Most adults lead extremely busy lives, and unfortunately, sleep is often the first area we pull from to make more time for other activities. However, it has been shown that people who get too little or too much sleep experience impaired cognitive ability and performance the next day. Long term, sleep deprivation is associated with serious health problems including diabetes, obesity and cardiovascular disease. A tip to get you started – Choose a bedtime that will allow you to get seven hours of sleep. Set an alarm 30 minutes prior to that time, turn off all electronics, get ready for bed and go to sleep. Try it for a week and see how refreshed you feel!
4. Get active every day – The health benefits of regular exercise are plentiful. From weight control and improved mood to better sleep and reduced risk of developing health conditions, daily physical activity is a must for anyone looking to improve their overall health. Exercise doesn't need to be excessive to achieve optimal benefits. By incorporating just 30 minutes of physical activity into each day or about three hours each week, you can start to realize your personal fitness goals, while boosting your energy and improving your well-being. A tip to get you started: Choose a time each day that works with your schedule and devote 30 minutes to nothing but physical activity. Incorporate a variety of activities throughout the week – anything from walking or yoga to strength training.
5. Track your progress – Holding yourself accountable to your daily commitments will help keep you on track to achieving your desired results. Studies show that people who track their fitness have an easier time staying motivated and maintaining their level of activity. For this purpose, Kardio-Xercise has developed the KX Fitness Calendar and "Eat Right. Be Healthy" Calendar to serve as an effective and easy-to-use tool for tracking health and fitness goals. A tip to get you started – Choose a method for tracking your progress that works best and is most convenient for you to use every day.
The KX Fitness Calendar and the "Eat Right. Be Healthy" Calendar are available for preorder via Kardio-Xercise's website . With delivery scheduled for early December, the calendars are a perfect holiday gift for anyone who is looking to track their fitness goals. Limited quantities are available and calendars are expected to sell out.
About Kardio-Xercise™
Kardio-Xercise™ is a multi-faceted fitness brand that was established on the principle that the human body needs attention in order to be at its best. From its high-quality fitness apparel and accessories to its online meal planner and interactive Blog, Kardio-Xercise provides a variety of resources for individuals who are committed to improving or maintaining the health and strength of their bodies through fitness and nutrition. Furthering its mission to create a fitness movement, Kardio-Xercise donates proceeds from its online sales to organizations that are making a difference in people's lives through fitness. Kardio-Xercise is more than a fitness brand. It's a lifestyle. It's pure passion. Kardio-Xercise, A Fitness Movement, The logo "K" with half "X" are all registered trademarks of KX Evolution, Inc. For more information about Kardio-Xercise, to purchase apparel or to access the online meal planner, visit http://kardioxercise.com.
Media Contact:
Oscar G. Castillo, CEO and Founder of KX Evolution, Inc., creator of the fitness brand Kardio-Xercise, (815) 575-9386, info (at) kardioxercise (dot) com.