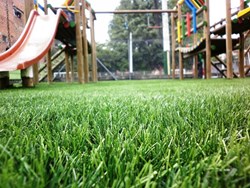 Buyers can maximize their synthetic lawn investment and avoid poor service and products by doing proper research and following smart purchasing guidelines.
Austin, TX (PRWEB) February 11, 2014
An increasing number of homes, businesses, golf courses and municipalities are realizing the benefits of synthetic grass as a low-maintenance, environmentally-friendly and attractive landscape solution. Buyers can maximize their investment and avoid poor service and products by doing proper research and following smart purchasing guidelines.
John Baize, director of synthetic turf manufacturer Act Global, said that while there are hundreds of reputable companies, there have also been instances of false manufacturing claims and dishonest business practices.
"By informing buyers of important issues to consider, we can help them avoid the frustration of poor quality product and service," said Baize.
Baize, who also serves as Chairman of the Board of the Synthetic Turf Council (STC), said the organization is focused on serving as a resource for trustworthy information about synthetic turf and promoting ethical industry standards. The STC has published "Considerations When Buying Synthetic Grass for Landscape Use", which provides guidelines on artificial turf selection, suppliers, manufacturers and installation practices. The document is available on the STC website for download.
Act Global offers Ten Tips for Purchasing Synthetic Landscape Turf:
1. Know your suppliers.
Research the seller to understand their reputation and stability. Check their website, local Registrar of Contractors (ROC), business registrations and research any complaint records online. Most companies should be licensed, bonded and insured. Inquire about the company's quality checks and procedures. ISO 9001 Quality Certification is a good indicator of manufacturing practices, as a world-recognized standard for quality management.
2. Check references.
Know the company's business history and ask for installation references, both recent jobs and ones that are several years old.
3. Look for industry certifications or memberships.
Are they members of the Synthetic Turf Council and other industry organizations? STC Members must comply with the organization's Code of Ethics and remain in good standing in the industry.
4. Consider intended use for the turf.
Artificial turf comes in many varieties, colors, heights and densities. A higher foot traffic area, such as a backyard, will require a denser, more durable product than an area with very little foot traffic. A playground or pet area may require something with a shorter pile height and less infill. Various shades of green are also available to match natural foliage, depending on the region of the country.
5. Follow STC synthetic turf quality buying guidelines.
Understand terms such as face weight, pile height, primary and secondary backing, tuft bind, and water permeability, and recommended guidelines for each. For example, most synthetic grass products have a total face weight of between 40 and 100 ounces per square yard, and a tuft bind of at least 6.8 pounds. Refer to the Synthetic Turf Council's "Considerations When Buying Synthetic Grass for Landscape Use" for further information.
6. Obtain test reports and product documentation.
Many companies make promises about their product. Reputable suppliers should provide documents and test reports that back the claims. Look for documents which verify the face weight, coating, backings, UV testing and tuft bind. Many low-end or overseas products are poorly made with little UV protection and experience breaking or fading.
7. Understand the terms of warranty.
An eight-year warranty is standard industry practice. Review all warranty terms, including type of damage covered, for how long and under what conditions. Does the warranty cover product defects, premature aging, and installation and workmanship errors? Understand the procedures for filing a claim, and how complaints will be handled and solved.
8. Obtain copies of the installation plan, turf and infill samples.
Obtain copies of a contract and installation plan that details materials and base preparation guidelines. This could include seaming materials, infill, synthetic turf, base materials and weed barrier. Silica sand is the recommended infill, as granules are larger and less susceptible to clumping than common masonry or playground sand. The turf sample should identify where the turf was manufactured and the name of the product and manufacturer. Verify the turf received for installation closely matches the sample retained.
9. Get everything in writing.
This includes warranty, contracts and installation plans. Get in writing that the product you selected is the product that will be delivered.
10. Ask for maintenance guidelines.
While synthetic turf requires less maintenance than natural grass, installers should provide recommended guidelines for caring for your turf lawn. These may include recommended tools, frequency of maintenance, procedures for cleaning up spills, dealing with snow and ice, and more.
ABOUT ACT GLOBAL
Act Global is a world leader in synthetic turf and artificial grass manufacturing. The company's artificial Xtreme Turf and Xtreme Lawn products replicate natural grass for use in international stadiums, indoor sport centers, synthetic lawns and other synthetic grass uses. Its LiteEarth and AvTurf affiliations add capabilities for landfills and airport applications. Act Global has four manufacturing locations in USA, Europe and Asia and installations in over 70 countries. Act Global is notable for currently being the first company in the world that is a FIFA Preferred Producer for Football Turf, Synthetic Turf Council Certified Manufacturer and holds an ISO 9001 certification. Its products have undergone hundreds of independent laboratory tests for quality, durability and performance. For additional information, please visit http://www.ActGlobal.com.