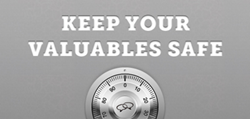 When looking to protect your important valuables an electronic safe is the way to go.
Columbus, Ohio (PRWEB) October 23, 2013
Electronic home safes have a number of purposes—they can be used to safeguard valuables against not only home break-ins, but also from fire and water damage. When used in conjunction with a top home security system, a safe offers the utmost level of protection for residents of a home.
An electronic safe is one that is one that has a digital keypad used for entry, as opposed to a lock or combination dial, although many safes have multiple entry options for the convenience of the owner. Electronic safes are not all created equally, however, which makes it difficult to decide which type to purchase. The home safety and security professionals at SecuritySystemReviews.com, a security system review site, created a list of tips for individuals considering the purchase of an electronic safe.
1. The first step is to determine what type of features are important. For example, many safes offer protection against fires and water damage, but this may be more expensive. Safes that are fire resistant are categorized based on the maximum level of heat they can withstand, and for what duration that can remain resistant to fire. For example, most standard fire-resistant safes can withstand temperatures of up to 600 degrees Fahrenheit, but some go up to 1350 degrees Fahrenheit.
2. Storage space is a primary consideration. For people who only want to store documents, cash or small valuables, such as jewelry, storage space isn't as important, but for people who'd like to store items such as guns, or larger valuables, a more spacious safe is going to be required. Typically storage space is measured in cubic feet, and a larger exterior doesn't always mean maximum internal storage space.
3. Review the burglary rating for the safe being considered. A burglary rating is based on how easy or difficult it would be for a thief to access the contents of a safe. Some safes are equipped with extra features, such as linings that make drilling impossible.
4. Decide whether or not to have an electronic safe that can be connected to a home's security system equipment. Some safes can be programmed to trigger security equipment and alert the security monitoring company.
5. Consider which entry methods will work best. Electronic safes almost always have a keypad, but some others may be equipped with fingerprint entry, or a back-up key entry features. The entry options are numerous, and individual needs may differ depending on what will be stored in safe. For example, an electronic gun safe will need a faster entry system than a file-style safe that is primarily for protecting documents.
About SecuritySystemReviews.com
SecuritySystemReviews.com is a provider of reviews and in-depth information relating to the home security industry. The site not only provides an unbiased comparison of top home security companies across the U.S., but also provides consumers with valuable security system discounts.