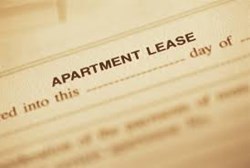 These top tips from industry experts help individuals who are signing a lease make sure they know what they are getting themselves into.
Los Angeles, California (PRWEB) January 21, 2014
Renting a house or apartment may seem as significant as making a purchase, but it is certainly a real responsibility that should be taken lightly. The team at AlarmSystemReport.com, a home security alarm system reviews site, has created a list of tips for renters to remember when they're about to put ink on paper for their next rental.
1. Rental rates are not set in stone, so don't be opposed to attempting to negotiate. Many renters wrongly assume that since they're not buying, they can negotiate, but that's not true. With that being said, renters should always be polite and professional, rather than acting like a bully. It's okay to ask for the right price, if the renter is going about the situation in the right way.
2. A lease is a binding contract. Renters should be absolutely sure before signing one, because it's not okay to break a lease.
3. Renters should know what's covered in their rent and lease agreement. Sometimes management companies may include the cost of utilities and other benefits, like gyms, cable and even public transportation. Other times, rent may strictly cover the cost of the place, without any additions. Before signing a lease, the renter should be very clear on what's being covered with their monthly payment.
4. Landlords are likely going to require that renters consult them before making any changes. Otherwise the result could be a fine or an eviction. There are some valuable changes, like a wireless alarm system, or the installation of DIY alarm systems that aren't hardwired, which can easily be removed. Other changes, like a new coat of paint could be problematic if the renter doesn't receive permission first.
5. Check the lease for automatic renewal clauses. This means that a renter has the right to automatically renew their lease, so that there's no risk of them being forced to leave before they would prefer.
6. Know what happens if the lease is broken, or how the lease expiration is handled. Some
landlords also require a certain amount of notice is given if the renter isn't planning to renew a lease.
7. If a landlord discusses anything with the renter, it should be in writing. The landlord's word is not good enough, and if it's not in the lease, it's likely not valid. Have everything spelled out, in detail in the lease to avoid future problems.
About AlarmSystemReport.com
From North Dakota security systems all the way to Alaska security systems, AlarmSystemReport.com is the leading provider of information, rankings and reviews pertaining to the home alarm industry. The site is maintained by a team of expert professionals in the home security industry, and all information is unbiased and independent. Consumers can also access valuable coupons and discount codes by visiting the site.