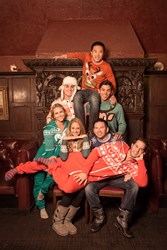 Our sweaters stand out. We are offering designs that are edgy and humorous. The ugly sweater craze is all about fun. - Evan Mendelsohn
San Diego, California (PRWEB) December 05, 2013
Tipsy Elves, a San Diego based "ugly Christmas sweater" retailer, is pleased to announce a partnership with Stand Up To Cancer (SU2C). Every sweater sold on TipsyElves.com through Dec 31, 2013 will result in a $2.00 donation to SU2C.
"We are guaranteeing a minimum donation of at least $25,000," says Nick Morton, who co-founded the company along with San Diego native Evan Mendelsohn. "Beyond that, we'll donate $2.00 per sweater up to a maximum donation of $100,000."
Those who purchase sweaters during the sales period can also pledge to wear it a select number of days in December or throw an Ugly Sweater Party to raise even more funds for SU2C's groundbreaking cancer research.
The company is also donating sweaters and other clothing items to children in need via their popular Sweaters 4 Sweaters campaign. "When people shop with us, they know they are helping provide warm functional sweaters to kids in need," adds Morton, who helps run Tipsy Elves while still working full time as an endodontist. "We're the number one ugly Christmas sweater retailer in the country, and part of our vision has always been to give back to the communities that helped make us successful."
Mendelsohn agrees. "It's been a great year for us; we got to appear on Shark Tank, which will air on December 13th, and we've gotten so much support from the sweater wearing community. We were already committed to our Sweaters 4 Sweaters campaign, but we wanted to do something extra to give back. Stand Up To Cancer was the perfect opportunity."
Tipsy Elves recently expanded their inventory to include a new selection of sweater designs as well as ugly Christmas sweater dresses and jumpsuits. The store also carries a wide range of accessories, including hats, scarves, ties and even pet sweaters.
Ugly sweater Christmas parties have become popular in recent years, and companies like Tipsy Elves sprang up to meet the demand for unique, engaging sweater designs. "Our sweaters stand out," says Mendelsohn, who quit his job as a successful attorney to work at Tipsy Elves full time in 2012. "We are offering designs that are edgy and humorous. The ugly sweater craze is all about fun."
Two sweater lines are available: Naughty, which features such sly renderings as a reindeer ménage a trois or a snowman sporting a carrot in a decidedly not nose-like location, and Nice, with more family friendly themes like the ever popular Elf Sweater or images of Rudolph.
"Everyone can find something to wear at Tipsy Elves," concludes Morton. "It's a great place to shop in preparation for the office party or family get-together."
Tipsy Elves is an apparel company headquartered in San Diego, California, with online retail stores for the US, Canada and the UK.
Stand Up To Cancer is a program of the Entertainment Industry Foundation (EIF), a 501(c)(3) tax-exempt organization.
NOTE TO EDITORS: For interviews, organization recommendations and other inquiries, please contact Tipsy Elves at info(at)tipsyelves(dot)com.