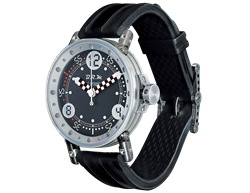 We're honored to continue our integral partnership with the organization and grateful for Brock's commitment to the motorsport community.
Philadelphia, Pennsylvania (PRWEB) April 19, 2016
The Tire Rack One Lap of America Presented by Grassroots Motorsports magazine is pleased to announce that BRM will once again provide trophies for the top 10 finishers in this year's event as well as two B.R.M timepieces for the overall winning team. The trophies and timepieces have quickly become a coveted items among the competitors over the past five years.
"Apart from the beautiful trophies, the BRM watches the overall winning team receives are a great reminder of the precision, flair and attention to detail it takes to win the One Lap." said Brock Yates Jr. Coordinator of the Tire Rack One Lap of America. "For BRM to return for a sixth year as a sponsor is fantastic and really shows their commitment to motorsports at all levels. From the One Lap to Formula One, BRM's commitment to motorsport is clear."
This year the overall winning team will take home a pair of V6-44-HB-BG timepieces. These timepieces are a reflection of the sprit of motorsport with every feature designed to evoke the sprit of performance. "One Lap of America and BRM are united by a shared dedication to preserving and advancing the art of racing. We're honored to continue our integral partnership with the organization and grateful for Brock's commitment to the motorsport community." said Frederic Gasser, President, BRM Americas.
The One Lap family welcomes BRM watches back for another year.
* * * * * * *
ABOUT THE ONE LAP OF AMERICA:
The Tire Rack One Lap of America Presented by Grassroots Motorsports Magazine is the modern day version of the Cannonball Sea to Shining Sea Memorial Trophy Dash of 1970. Created by Brock Yates and popularized by the movie Cannonball Run, today's One Lap of America challenges its participants to endure long transit drives of over 400 miles daily and to compete on 12 of Americas most challenging racetracks in 8 days. This year's One Lap begins on April 30th, 2016 and runs through May 7th, 2016. The current event is headed by Brock Yates, Jr. and will be celebrating the 33rd running of the event. The full schedule is available online at http://www.onelapofamerica.com and on Facebook.
Media Contact:
Solomon A. Rosenthal
Media Director
215.703.7621
ABOUT BRM:
Inspired by motorsports, driven by craftsmanship and engineered for exclusivity, BRM's made-to-measure timepieces are defined by pure racing spirit. Founder Bernard Richards launched the label's inaugural collection in 2003, turning his mechanical expertise into an iconic company that's gone the distance as the only remaining watchmaking manufacture in France. Fully customizable, BRM's bespoke products are built for authenticity and performance, and the brand's limited-edition collections have garnered elite global partnerships including Gulf Oil, Corvette Racing, the Pirelli World Challenge and many more. Website
ABOUT TIRE RACK
Tire Rack, family-owned and headquartered in South Bend, Indiana, is America's largest independent tire tester and consumer-direct source for tires, wheels and performance accessories. Their team of over 100 test drivers (their sales team) tests tires from every major tire manufacturer on the company's state-of-the-art, 11.7-acre test facility. The findings are then posted on the company's website, http://www.tirerack.com, where consumers can make an educated decision on a tire, wheel or performance accessory purchase.
Tire Rack has also collected results from nearly 150,000 consumer surveys representing over 2.5 billion miles of real-world tire data, the largest known cache of such information anywhere. In addition, various testing and informational videos are available online in their Video Center at http://www.tirerack.com/videos. Since 1979, Tire Rack has grown from a single-point retail store in Indianapolis to encompass over 2.2 million square feet of space in seven distribution centers across the country. A diverse and broad in-stock inventory from 21 major tire and 62 wheel brands can be delivered anywhere in the country, most in one business day. A national network of over 8,000 independent Recommended Installers is available to assist customers with installation of their purchases.
ABOUT THE BROCK YATES TRIBUTE FUND:
The official charity of the Tire Rack One Lap of America. The Brock Yates Tribute Fund, was created in 2013 through the Alzheimer's Association, a 501(c)3 non-profit, to raise money and awareness about Alzheimer's. Currently suffering from this disease, legendary automotive and racing veteran journalist Brock Sr. continues to dedicate his life to all the car enthusiasts around the country. Tribute Fund aims to honor him for all that he has given to the world of the automobile.
All funds raised by the Fund go directly toward supporting the Alzheimer's Association mission. The Tribute fund, will once again be competing in the Tire Rack One Lap of America with the Tribute Fund's heavily customized Ariel Atom piloted by Jack Beachem and Victor Leo.