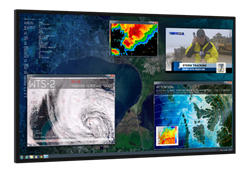 From Satellite imagery & real-time UAV feeds to 3D modeling, TI features a key piece in the data visualization equation - the ability to share, collaborate & display content being produced in other tactical and analytical C2 applications.
Atlanta, GA (PRWEB) April 11, 2014
Technical Innovation (TI) is a proven solution provider of network based visualization solutions who has demonstrated the ability to merge AV with IT and deploy Mission Critical Systems into environments with the unique security requirements of the IC, SOF, DoD and DHS. The GEOINT Symposium, taking place April 14-17, 2014 at the Tampa Convention Center in Tampa, Florida, is the nation's preeminent intelligence event of the year for these communities.
Using Planar's 84" Ultra HD 4K LED backlit LCD, Technical Innovation will be in Booth #1101 demonstrating SitScape, a proven and secure collaboration and web based data visualization solution. SitScape's intuitive GUI & advanced software provide real-time contextual collaboration from disparate sources, creating on-demand situational awareness and secure information sharing to the Enterprise and Mission/Remote Teams.
Attendees of the GEOINT symposium who are interested in discussing integration between their legacy AV systems are encouraged to visit the booth. Jason Jaworski, an expert in integrated visualization platforms in mission critical facilities, and Jonathan Reany, Director, TI Secure Federal Unit, will be available to introduce attendees to the most recent advancements in visualization solutions and to demonstrate how to include intelligent visualization into their command center, making it more intuitive, efficient and effective.
TI Secure Federal specializes in signal processing, secure unified communications, mission critical facilities and visualization environments within the intelligence and special ops community. In collaboration with TI's Enterprise Video and CriticalSpace Solutions units, they provide comprehensive design/build integration of tactical operation centers focused on increasing situational awareness and driving operational efficiencies. A trusted technology leader for over 75 years, TI is a cleared facility with cleared personnel who have experience working with multiple security classifications for military and INTEL agencies.