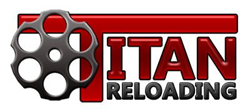 Hartford, WI (PRWEB) July 04, 2017
Titan Reloading has announced that the company has added two new suppliers. Products from these suppliers, Dillon Precision Products and Redding Reloading Equipment are currently available on the company's website.
As Master Distributors, of Lee Precision Reloading Equipment, Titan Reloading has ample experience in delivering high quality reloading products to its customers. Since the company's start in 2012, Titan Reloading has expanded its inventory to carry the full line of several brands of reloading equipment, including Lee Precision, MEC Reloading Equipment, Dillon Precision Products, and Redding Reloading Equipment.
Since 1977, Dillon Precision has been designing, building and servicing reloading machines. Located in Scottsdale, Arizona, Dillon Precision continues to build upon the foundation of innovation and improvement in their product line.
Titan Reloading offers products from Dillon Precision including Dillon Presses, Dillion Cal. Conversion Kits, Dillon Pistol Reloading Dies, Dillon Rifle Reloading Dies, Dillon Case Gauges, Dillon XL650 Casefeeders, and Dillon Press Accessories.
Redding Reloading Equipment is a premier manufacturer of reloading equipment for metallic rifle and handgun cartridges. The company has developed unique and patented products in order to produce the most accurate hand loaded ammunition possible. Made in Cortland, New York, Redding products are made from American Steel, with castings from Pennsylvania and on 100% American Made machinery.
Redding Reloading Equipment products that are currently available at Titan Reloading include Redding Presses, Redding Powder Measures, Redding Reloading Dies, SECO Bullet Casting Equipment, and Redding Competition Shellholder Set #1. Titan Reloading also offers a number of die sets in different calibers.
As new suppliers that have just been added to Titan Reloading, the company is currently working on building its inventory of Dillon Precision and Redding Reloading Equipment products. As a result, some products are not yet available for sale on the Titan Reloading website. For these products that are not listed on the company's website, the Titan Reloading has requested that customers contact Titan Reloading directly to obtain a price quote and to place an order.
To view products, customers can contact Titan Reloading to set up a meeting to visit the company's showroom. Titan Reloading has daily showroom hours with evenings and Sunday available by appointment only.
For answers to setup and operational questions in relation to products from Lee Precision Equipment, Titan Reloading has requested that customers visit the FAQ and Help Videos section of the website before calling them.
About Titan Reloading: As "Master Distributors" of the Lee Precision line of reloading equipment, Titan Reloading can provide every product and service part offered by Lee Precision at very affordable prices. Located in Hartford, Wisconsin the company maintains a showroom for its equipment. Since 2012, wife and husband team, Robin and Dennis Gorski. have been committed to delivering exceptional quality products and prompt service. To learn more about Titan Reloading, visit http://www.titanreloading.com.