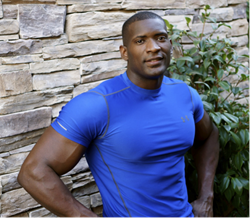 We see people in the gyms every day that end up looking the same regardless of the efforts they put in because they don't know how to really change their body
(PRWEB) November 14, 2014
Many are excited to see the results from Ben Shaw's second Titan Transformation curriculum. The first release created many body and life transformations. A notable success story is of a single mother, Anna Myers, who lost over 170 pounds in her Titan Transformation journey.
Anna shared, "There was a time not long ago my life felt empty. I struggled with weight loss issues for over 20 years." She continued to explain the most powerful component of the Titan Transformation curriculum was doing daily affirmations. Listen to her full story here.
Shaw promotes three principles to help people achieve a healthy lifestyle: intake, affirm and train. He delivers this based on his personal belief that the general public is becoming increasingly unhealthy in our country.
"People need someone or something to get their life and eating habits under control", says Shaw. "They need to get in shape to regain the full, vibrant life being unhealthy and overweight has stolen from them."
More than 365,000 lives are being lost each year due to weight related health issues. As obesity levels rise at an alarming rate, it seems as if this epidemic is unstoppable. According to Shaw, a major contributor is found in the countless offerings who make it sound as if losing weight is incredibly easy and can be achieved with just a few minutes each day. The myth of being able to lose weight, stay fit, and be healthy using short-cut methods is becoming more prevalent in today's culture, and this is something Shaw is trying to fight against.
"We see people in the gyms every day that end up looking the same regardless of the efforts they put in because they don't know how to really change their body," says Shaw. "They don't know how to push their body to the intensity required for the body to change and many risk injuries by not training correctly. Those who take part in the Titan Transformation curriculum are trained to do the right exercises the right way at the correct intensity, thereby avoiding injury and achieving the desired results."
Titan Transformation was created as a direct result of an unfulfilled need. Shaw has been working in the health and fitness industry for almost 15 years and saw again and again how people would become demotivated because they were not achieving the results they were looking for, or because they had unrealistic expectations. This lack of knowledge is what Shaw hopes to change through his programs, empowering others to truly transform their bodies.
To achieve this, he focuses on a number of key elements. The first is mindset, showing people how to get the mental commitment towards achieving their goals by using affirmations and mental conditioning exercises. Next, he focuses on nutrition and supplementation, as only a body with healthy and balanced fuel is able to become healthy overall. Another element of his transformation program is proper weight training and cardio at the correct intensity and with the right variety. Finally, through goal setting and tracking progress, participants will be able to experience a complete transformation.
Ben's formula has created results for clients ranging across losing a significant amount of weight; some even over 100 pounds, being taken off medications for diabetes and high blood pressure, and no longer suffering from back and knee pain. Many of these stories are from people who have no previous gym experience.
For further information on the Titan Transformation program and the second release, please visit http://www.titantransformation.com.