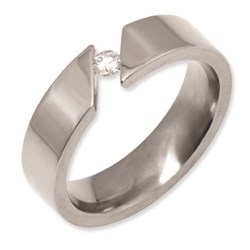 We put our faith in titanium when we fly, so why not a wedding band made from this space-age and lightweight material.
Brea, Calif. (PRWEB) August 30, 2013
Tungsten World, a leader in retailing unique, durable wedding bands, is proud to announce the arrival of titanium rings and titanium wedding bands for men and women to their website.
Even as summer slowly winds to a close, the wedding band experts at TungstenWorld.com continue to add high quality wedding band styles for couples getting married in the fall wedding season, which is growing in popularity with each passing year. The introduction of titanium wedding bands gives Tungsten World yet another line of highly sought after and modern alternative wedding bands to feature with their already popular collections of tungsten wedding rings, cobalt chrome wedding bands and ceramic wedding rings.
Several times harder than white gold, titanium rings are also known for having the highest strength-to-weight ratio of any wedding band on the market. The result is titanium wedding bands that will not only outlast white gold, 18k gold and even platinum in terms of scratching but will also resist denting and being bent into an irregular shape better than those precious metal alternatives. In terms of women's and men's wedding bands, it is a serious benefit for those that are very active while wearing their wedding band or expect a ring to survive daily wear. In addition, titanium rings are featherlight in weight, an added comfort to wearers that prefer lightweight jewelry, and considerably lower priced than their precious metal counterparts without giving up any quality or craftsmanship. Among the new titanium rings and titanium wedding rings now available on Tungsten World, categories of rings include: womens and mens titanium wedding bands, womens diamond titanium rings, brushed titanium milgrain wedding bands for both men and women.
"Titanium and titanium rings have been around for awhile and they are a part of our everyday lives, from golf clubs to space ships and airplanes, titanium is a very trustworthy and durable material," said Brett T, sales manager at Tungsten World. "We put our faith in titanium when we fly, so why not a wedding band made from this space-age and lightweight material."
The large selection of titanium wedding rings now available at Tungsten World include styles, widths and sizes for men and women. In addition, tension set diamond titanium rings available in varying carat size from .17 ct to .25 ct also make stunning diamond engagement rings for those looking to pop the question in the near future. And right now, Tungsten World is also offering $35 off orders of $125 or more when couples use the code LABOR35 when buying their wedding bands now through Labor Day.
About TungstenWorld.com:
Based in Orange County, Calif., Tungsten World is the largest retailer of tungsten rings & tungsten wedding bands in the world. Tungsten World's Tungsten Forever™ brand offers the absolute highest quality women's & men's tungsten carbide rings & tungsten jewelry products, including tungsten wedding bands; all of which include a lifetime warranty and are offered in a variety of styles to meet the demands of today's trends, such as their new line of titanium rings in addition to cobalt rings and ceramic rings.