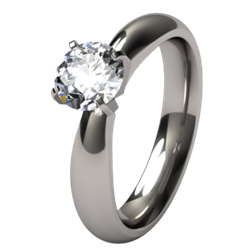 The Top 10 are consistently dominated by titanium wedding bands, but tension set engagement rings are increasingly popular because titanium is one of the few metals strong enough to suspend diamonds and gems.
USA (PRWEB) November 19, 2013
As the two biggest shopping days of the year—Black Friday and Cyber Monday—approach, men and women will be looking for steals on items to dress their houses and their hands, including titanium rings as gifts for the upcoming holidays and proposals.
"Black Friday and Cyber Monday deals will see the online retail world succumb to pure, joyful madness," says Ben Vos, general manager of TitaniumRings.com. "Of course we'll be there joining in the fun. We get really busy in any season loosely attached to love, weddings and family, such as Christmas, Valentine's Day, graduation and summer holidays."
Here is TitaniumRings.com's list of the Top Ten Titanium Rings in America predicted to be hot sellers this season:
10. Etoile Square Diamond Solitaire. This titanium engagement ring is gaining popularity for its modern, clean lines and sheer sparkle. Women love how the .70 carat princess cut diamond or gemstone appears to float.
9. Electra Solitaire. This unique and feminine ring gives women the chance to add color to their fingers because the Electra features a slender band that can be custom anodized—a beautiful strip of color to contrast the single prong setting.
8. Abyss - Colored. Men love adding a twist to the traditional wedding band too by adding anodized color. Because it gives men a unique way to customize aircraft grade titanium wedding bands, the colored Abyss is becoming an increasingly popular choice for men with active lifestyles and occupations.
7. Abyss. Men love the 1989 cult classic The Abyss, and they love the ring inspired by the film. Flat profile titanium wedding bands—including the Abyss, which is often requested to be 20 millimeters wide and have a coarse outside finish just like the movie's original—are America's second-most popular wedding rings.
"Men love the 'hero' factor of the Abyss collection," says Vos. "This replica ring is especially cool because it's the same type of titanium alloy worn by Ed Harris in the movie. Remember how it saved his life in the scene where he gets jammed in the door? Titanium is very strong, so you can pull off super-human feats like that... But don't try this at home."
6. Meghan - Black. With stunning curves that rise from its triple tension setting, the Meghan is always popular with women who love to make a statement with their jewelry. Along with the Meghan Companion, this bridal set offers sophisticated symmetry and three eye-catching, lovingly cradled stones. The Meghan looks especially stunning in black titanium with the dark band contrasting all the diamonds.
"Tension set titanium diamond engagement rings like the Meghan and the Etoile are very unique because the diamond is exposed to more light from the sides and bottom," says Vos. "The diamond just appears to 'float', suspended and sparkling, shown at its best."
5. Helena Solitaire. The Helena features a lovely band and a single prong setting, a classic choice for women who love tradition and understated elegance. Women also love being able to customize their ring with Canadian arctic diamonds, international diamonds or gemstones.
"It was a tight race in the engagement ring style with the tension set titanium edging out other styles for top place, but America will never grow tired of the classic round brilliant cut diamond solitaire," says Vos.
4. Lunar Eclipse. Classic, simple and lasting, the Lunar Eclipse, has long been one of the most popular titanium wedding bands. It feels 'barely there' and yet it makes a timeless statement with its classic dome profile and gentle slope.
3. Stella Solitaire - Black. This engagement ring is both trendy and elegant because of its unique qualities—a classic design paired with a tension-set stone 'floating' on a wave of black titanium.
2. Stealth. This extra-low flat profile ring is TitaniumRings.com's second most popular wedding band because people love its sleek style, clean lines and the modern twist on the traditional band. The Stealth is sought after by both men and women looking for a low profile, yet rugged and contemporary wedding ring.
1. Eclipse. The ring so many imagine when they picture a wedding band on their fingers, the Eclipse is a timeless classic and tops the list of America's Top 10 Titanium Rings. Its simple style and curved design make it as comfortable as it is beautiful and traditional.
"Simple is beautiful in rings, as in love," says Vos. "The Top 10 are consistently dominated by titanium wedding bands, but tension set engagement rings are increasingly popular because titanium is one of the few metals strong enough to suspend diamonds and gems. We're happy to offer great stone choices too—sales using diamond alternatives such as cubic zirconia, white sapphires and moissanite are really on the rise. Whatever ring our customers choose, we know they're going to love it."
For more information, please contact:
Ben Vos
General Manager
http://www.titaniumrings.com
1-800-490-8281