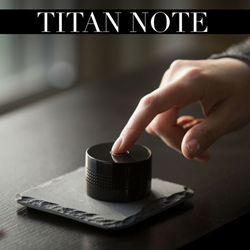 Our goal was to give people an easier option when taking notes, so that they can be more efficient in how they manage their information.
Malmo, Sweden (PRWEB) March 08, 2017
Titan Note has quickly surpassed their $35,000 funding goal on Indiegogo this past weekend and has already cleared the $200,000 mark. Titan Note is a device that can potentially change the way millions of students and professionals take notes. This pocket-sized device makes note taking simple, easy, and stress-free with the touch of a button. Titan Note makes physically recording notes obsolete, so focusing and listening can be a priority. Titan Note is the first device that replaces your need to manually take notes.
"Our goal was to give people an easier option when taking notes, so that they can be more efficient in how they manage their information," Titan Note CEO Erik Jansson said. "Our product is one of the most advanced of its kind, in terms of accuracy, and we are grateful that it has met its goal."
Titan Note is able to transcribe and record audio whether in a lecture hall, conference room, or meeting. The device is able to record and detect voices up to 70 feet away. By pressing the record button located on the top of the device, it has the ability to decipher between multiple voices, translate the audio to 10 different languages, edit in real time or save and review for later in an iOS or Android application. The device also doubles as a speaker and powerbank when the recording feature is not being used. Titan Note won't get left behind due to its Bluetooth anti-lost system. It will ping the Bluetooth-connected device in use when the user begins to go out of range.
Additionally, Titan Note is water resistant for any climate, so that it can travel anywhere. You can use it anywhere too. The portable recorder is also equipped with noise-cancelling microphones to cancel out any extra background noise and improve accuracy. Titan Note fits into almost any bag and takes up less space than a pen and notepad. The share feature in the app makes it easy to share notes with others or between devices. With the translation feature, users can share their notes with people around the world, such as an overseas client.
Titan Note created their first hardware prototype in April 2016. The creators are working to improve their translation software in order to have mathematical symbols appear in the translated text. They are preparing to introduce new colors, including Performance Purple and Energy Blue, when they hit the $250,000 stretch goal.
Titan Note is currently being sold for $80 on Indiegogo. To learn more about Titan Note or to pre-order, visit bit.ly/TitanNoteIGG.
ABOUT TITAN NOTE
When Titan Note CEO, Erik Jansson, was in college and university, many complained that it was hard to listen and take notes at the same time. It was then he realized that there had to be a better way. It was then he got to work developing a more advanced and accurate method of taking notes. Jansson has a goal to save people time, headache and missed information with the introduction of Titan Note. To learn more about Titan Note, visit bit.ly/TitanNoteIGG.