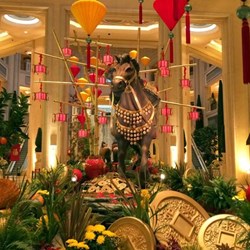 'We see ourselves as innovators, fixers, choreographers,' said Thompsen of the partnership. 'We're the guys to call when you don't know where to turn, because we can, and we will, make your wildest art dreams come true.'
Irvine, CA (PRWEB) January 21, 2014
Orange County-based art consultancy TKOart, LLC announces the completion of a massive installation of a series of large-scale, custom-designed, hand-crafted horses for The Venetian and The Palazzo Las Vegas' 2014 Chinese New Year celebration. This marks the fourth consecutive year that the Orange County-based firm has conceived, designed, fabricated, and installed the mega-resort's Chinese New Year centerpieces.
In recognition of the Year of the Horse, TKOfx, the firm's creative fabrication division, has crafted eight painstakingly sculpted horses ranging in size from a foal, which measures 48" high, to two rearing beasts standing 14 feet tall, and a featured horse, installed in the Waterfall Atrium, towers over visitors from a height of 16 feet. To fully honor the occasion, the team also has created a lamb – the secret friend of the horse, according to the Chinese zodiac.
"Elegance, power, stability, and perseverance – these are the traits of the horse in the Chinese zodiac; and what you'll feel when experiencing the 2014 Chinese New Year installation throughout The Palazzo Waterfall Atrium and Gardens," said Dana Beatty, director of floral and horticulture at The Venetian and The Palazzo. "We also worked with a feng shui master to ensure that our installation encapsulates all the aspects of the luck and prosperity for the New Year."
Chinese New Year at The Venetian: No Holds Barred
The electrifying celebration of Chinese New Year at The Venetian and The Palazzo, which kicks off on January 31, 2014, will be felt throughout the resort, with Asian-inspired food and beverage offerings, and a traditional dragon dance and eye painting ceremony. Drawing hundreds of thousands of visitors from around the globe, the atmosphere ripples with energy, excitement, and a profound respect for Asian tradition. This year promises to be no exception.
The Long and Winding Road to [Las] Vegas
Work on the 2014 horses launched just weeks after the previous year's display – a smiling, 98-foot-long snake wrapped around the branches of a peach blossom tree – had been dismantled. Following a multi-faceted concept and design process that takes into consideration everything from the tilt angle of each animal's head—which can significantly impact the response to the art by Asian visitors—to the material of choice for the mane, TKOfx creates steel and aluminum structures that are eventually enclosed within hand-sculpted, high-density foam. The forms then undergo hardcoating and are hand-painted, incorporating techniques like trompe l'oeil to render them as detailed and vibrant as possible. Each is unique, and in perfect accordance with Chinese mythology.
The team of TKOfx artists, many of whom honed their craft behind the scenes of Pirates of the Caribbean, Indiana Jones, and Alice and Wonderland, is supported by some two dozen renderers, engineers, welders, and animatronics and lighting specialists.
"It's one thing to dream up ideas," said Katz, "but it's the execution, the bringing of those ideas to life, that sets us apart and puts us over the top."
TKO Stands Behind its Work – and its Customers
Led by co-founders Heather Katz and Troy Thompsen, TKOart has become an understated but powerful artistic presence in Las Vegas, Los Angeles, and other U.S. and international destinations. Known for their ability to design and produce large-scale, three-dimensional art for indoor and outdoor spaces in the corporate, hospitality, and private collection sectors, TKOfx prefers to work behind the scenes, reserving the spotlight for its clients.
"We see ourselves as innovators, fixers, choreographers," said Thompsen of the partnership. "We're the guys to call when you don't know where to turn, because we can, and we will, make your wildest art dreams come true."
Co-founder Troy Thompsen agrees, adding that, "the depth and diversity of our sources provides us with a constant diet of artistic perspectives and honest feedback. Without them, we'd be nothing." For visual images and to learn more about TKOart and TKOfx, visit http://www.tkoart.com.
For information about the founders, visit http://www.tkoart.com/about/team.
About TKOart, LLC
Orange County-based TKO is a full-service art consultancy that provides its clients with a one-stop shopping experience. The firm specializes in fine art acquisitions and commissions; custom art design and fabrication; exhibition and event management; framing, lighting and installation; and, comprehensive consulting services, including space planning, corporate art programs, budget planning, and appraisals.
TKO's clients include the Four Seasons Resorts, Venetian Resorts International, MGM Entertainment, MGM-Mirage Resorts, and Disneyland International. The firm has worked with entertainment giants Capital Records, Creative Artists Agency, Sony Pictures, Warner Brothers, 20th Century Fox, NBC Universal, and United Artists Universal Studios. Another division of TKO works with private collectors, including many well-known Hollywood personalities, on a consulting and art procurement basis.
About The Palazzo Las Vegas®
With more than 3,000 spacious suites, luxury shopping ,world-class dining and entertainment, the $1.9 billion, Silver LEED® (Leadership in Energy and Environmental Design)-certified Palazzo Las Vegas literally takes luxury to new heights. Ranked as one of the top 25 hotels in the U.S. and Canada in Travel + Leisure "World's Best Awards" for two consecutive years, the AAA Five Diamond and Forbes Travel Guide Four Star-Award winning resort is highlighted by a flagship 85,000-square-foot Barneys New York. Grand Canal Shoppes®, feature more than 60 luxury boutiques, including 20 remarkable stores and couture brands making their Las Vegas debuts at The Palazzo including Chloé, Tory Burch, Christian Louboutin, Diane von Furstenberg, Van Cleef & Arpels. The all-suite resort offers plush and opulent suite accommodations ranging from a Luxury Suite at an unprecedented 720 square feet to the 8,000-square-foot Chairman suite with private terraces and plunge pools. The Palazzo also offers a variety of cuisines from a collection of award-winning chefs such as Carnevino by Mario Batali, CUT by Wolfgang Puck and Table 10 by Emeril Lagasse. Other unique offerings include PANDA!, an unprecedented theatrical spectacle; the chic dining and nightlife hotspot, LAVO; the world's largest Canyon Ranch SpaClub; the ultimate sports bar, sportsbook and restaurant on the Strip, Lagasse's Stadium; and Prestige at The Palazzo – an exclusive space designed to offer the sophisticated traveler an elevated level of services and amenities. Guests can earn points while they eat, sleep, shop and play with Grazie, the premier loyalty program. The Palazzo and its famed sister resort, The Venetian Las Vegas, are the first ever Alliance Resorts in the InterContinental Hotel Group global portfolio. For additional information, visit The Palazzo website at palazzolasvegas.com, follow on Twitter @palazzovegas and interact on Facebook at facebook.com/palazzolasvegas.
About The Venetian Las Vegas®
The Venetian Resort-Hotel-Casino, the largest property in the country to receive AAA's Five Diamond and the coveted Forbes Travel Guide Four Star awards, is one of the world's most luxurious resort and convention destinations. Recreating Venice's legendary landmarks, the LEED® EB Gold (Leadership in Energy and Environmental Design)-certified resort offers unmatched service and quality for leisure and corporate guests. With suites ranging from a standard 650-square-foot Luxury Suite to the luxurious 10,000-square-foot Chairman Suite, the all-suite resort boasts more than 4,000 of Las Vegas' most lavish suite accommodations. Located in the heart of the Las Vegas Strip, The Venetian features The Grand Canal Shoppes®, an indoor streetscape complete with gondolas and singing gondoliers, the Canyon Ranch SpaClub®, world-class gaming, exquisite restaurants, a wide variety of entertainment such as the party musical "ROCK OF AGES," showroom headliners including Human Nature, David Spade, Rita Rudner, Tim Allen and Joan Rivers and extensive convention and corporate services. Guests can earn points while they eat, sleep, shop and play with Grazie, the premiere loyalty program. The Venetian and its sister resort, The Palazzo Las Vegas, are the first ever Alliance Resorts in the InterContinental Hotel Group® global portfolio. For additional information, visit venetian.com, follow on Twitter @venetianvegas and interact on Facebook at facebook.com/venetianlasvegas.
Media Contact | Charlotte Novom | Novom Marketing | cnovom(at)novom(dot)com | 714.941.979