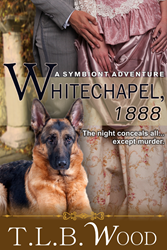 The Ripper is about to change history...
Shrewsbury, Pennsylvania (PRWEB) May 10, 2016
ePublishing Works! announces WHITECHAPEL - 1888 by T.L.B. Wood, available in paperback (978-1-61417-838-5, 334 pages, $15.99 USD) and eBook format (978-1-61417-837-8, $3.99 USD).
100 complimentary copies available:
Click here to download a free eBook edition of this title in the format of your choice.
Genre:
Fiction, Fantasy, Historical
Fiction, Fantasy, Paranormal
The story:
Time-traveling symbionts Petra and Kipp arrive in Victorian England during the time of Jack the Ripper. Petra appears as a woman, while Kipp poses as her canine companion. Their mission—quickly find their boss's son, Silas.
But the telepathic duo's efforts prove unsuccessful until local philanthropist William Harrow points the way. Silas is pursuing Jack the Ripper, whose disturbing thoughts of murder are turning to Petra and Kipp.
Now the pair must evade the Ripper and corral Silas before their new friend Harrow asks Petra for her hand in marriage. Fail, and the Ripper will add a new victim, Petra, to the history books.
Read an excerpt from the book by clicking here.
THE SYMBIONT TIME TRAVEL ADVENTURES, in series order:
The Symbiont
Tombstone, 1881
Whitechapel, 1888
The General, 1862
Discover the entire series by clicking here.
What reads say about the series:
"...intriguing story -- well worth reading..." --Amazon Reader
"Creatively conceived with flawless descriptive composition." --Nadine
"...a very unusual read for me...absolutely fascinating...couldn't put it down." --Stilwatrsqaw (Amazon)
"...the symbiotic relationship between canine and human is immensely appealing." --Amazon Customer
Meet T.L.B. Wood:
T.L.B. Wood began her love of literature at an early age, encouraged by her mother who was an English teacher. T.L. and her husband live outside Birmingham, Alabama and share their home with five dogs and three cats. More than one rescued dog has found a forever home with the Wood family.
Discover and Purchase this and other titles from T.L.B. Wood by clicking here.
WHITECHAPEL - 1888 is available through online retailers, booksellers, subscription services and public libraries everywhere.
Wholesale buyers may order through Ingram or Baker & Taylor with return privileges.
About ePublishing Works:
ePublishing Works! is a next generation digital print, audio and ebook publisher for career-minded authors who want to focus on their passion: writing great stories. From digital file preparation, cover design, sales copy, promotion and distribution, to royalty payment, ePublishing Works takes care of business while authors enjoy the freedom to write. For more information and submission guidelines visit us at http://www.epublishingworks.com or click here to request information.