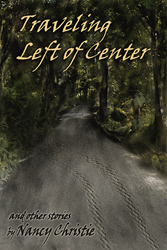 Nancy Christie's stories are amazing.... when she reveals [her world], we catch our breath as the first readers of Poe or Kafka or the darker passages of Mark Twain's later works surely must have gasped. ~ Morrow Wilson, from his Introduction
(PRWEB) May 19, 2014
Every once in while a new literary voice comes out of left field, unheralded, unexpected. Nancy Christie is such a writer, a journalist who has made a name for herself in non-fiction, but whose brilliance is penning exquisite and often disturbing short stories. Pixel Hall Press is proud to announce that it will publish a collection of Nancy's short stories — "Traveling Left of Center and Other Stories" on September 9th.
Nancy Christie's hypnotic, lyrical prose captures your heart with its deep, rich humanity. In "Traveling Left of Center and Other Stories," Nancy writes about what happens when people face life situations for which they are emotionally or mentally unprepared. The characters in "Traveling Left of Center and Other Stories" are unable or unwilling to seize control over their lives, relying instead on coping methods that range from the passive ("The Healer") and the aggressive ("The Clock") to the humorous ("Traveling Left of Center") and hopeful ("Skating on Thin Ice"). But the outcomes may not be what they anticipated or desired. Will they have time to correct their course or will they crash?
Included in this collection of eighteen short stories are the critically acclaimed "Annabelle" and "Alice in Wonderland."
Review copies available, not just for reviewers but for readers, too.
"Traveling Left of Center and Other Stories" will be published September 9, 2014 as a paperback book and eBook (in all formats for any device). Review copies are currently available either through NetGalley or directly from Pixel Hall Press. Reviewers and bloggers should contact Cynthia Dadson -- Cynthia [at] PixelHallPress [dot] com -- to request a review copy.
But the prepublication review copies aren't limited only to book reviewers and bloggers. A select number of people will also be chosen as beta readers of "Traveling Left of Center and Other Stories." Beta readers receive free copies of Pixel Hall Press books in exchange for their feedback. If you are interested in being a beta reader, please use the Contact Form on the Pixel Hall Press website.
ABOUT PIXEL HALL PRESS
Pixel Hall Press is a relatively new, old-fashioned small publishing house whose focus is on discovering literary gems and great stories by gifted writers that might have otherwise been overlooked. Their mission is to publish books that energize the imagination and intrigue the mind, and to be a conduit between readers and provocative, stimulating, talented authors.
In this era of digital technology, Wall Street involvement and merger mania, mainstream publishers seem to have lost sight of the core principles and purpose of publishing. At the other end of the spectrum is an avalanche of self-published books that are notoriously uneven in quality. Small boutique imprints, such as Pixel Hall Press, are reclaiming the heart and soul of publishing by reviving the idea that a publisher's "raison d'être" is to find and nurture great writers, and to provide readers with beautiful, meaningful, truly enjoyable books.