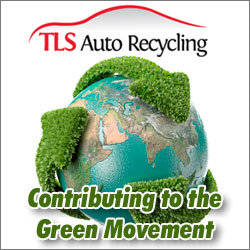 TLS Shows Gratitude and Appreciation to Planet Earth
Sacramento,CA (PRWEB) April 20, 2014
TLS Auto Recycling (TLS) is celebrating Earth Day by offering Towing Service for End of Life or Unwanted Vehicles and is encouraging everyone to contribute towards a greener environment this Tuesday April 22nd 2014.
Many environmental experts have determined it is easy to underestimate the negative effects that unwanted vehicles have on our environment. They are always focused on combating environmental issues such as global warming. Getting these junk vehicles off your front lawn and out of your backyard will improve the environment in multiple elemental aspects involving water quality and air clarity. TLS Auto Recycling has partnered with Green Vehicle Disposal an Eco Friendly Auto Recycler Network Member to facilitate owners of unwanted vehicles.
In show of gratitude and appreciation of the planet, TLS will offer towing service to owners of junk/unwanted cars on April 22nd 2014 from 9 a.m. to 5 p.m. TLS Auto Recycling will assist in getting rid of junk vehicles, wrecked cars, or vehicles which are immobile anywhere in Northern California Area. Unwanted vehicle owners, can visit TLS Auto Recycling to submit their pickup information.
"Car owners who donate their unwanted vehicles can help cut down on the negative environmental consequences of unwanted stationary vehicles by ensuring that reusable parts will be recycled, handled and dismantled in a responsible and environmentally friendly manner," said George Manager at TLS Auto Recycling.
About TLS Auto Recycling:
TLS Auto Recycling is one of the largest wrecking yards in Northern California specializing in auto dismantling of all years,make and models of Toyota, Lexus and Scion. TLS Auto Recycling is renowned for its high rate of client satisfaction and customer satisfaction oriented business philosophy. A leader in the green industry and environmentally friendly business practices.
TLS Auto Recycling
3689 Recycle Road
Rancho Cordova,CA
95742
http://www.tlsautorecycling.com
(877)-247-1717