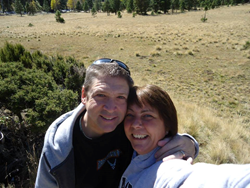 I can't kiss my husband like I used to. I wake up in the mornings with migraines because the bones have deteriorated so badly. Chris Marr 04/16/2015
San Tan, AZ (PRWEB) April 29, 2015
In addition to great music, dancing and just plain fun, there will be a 50-50 Raffle, a plethora of items to choose from for raffle drawings and soft drinks and snacks will be served. Cash donations are also welcome.
Chris' friends and family watch her endure each day as her jaw joint and bone become weaker, making eating and talking more difficult and tooth loss a predictable outcome. Chris has had more than 10 surgeries on her jaw and has endured years of treatment. She is now at a crossroad. Her doctor's final course of action is the surgery that her insurance company refuses to cover.
The dance on May 2nd is the second in a series of fundraising events her friends, dubbing themselves as Good to the Bone Productions is presenting. They are also planning an online and live auction, featuring dozens of donated offerings from Phoenix Valley individuals and businesses.
Chris is a wife, mother of two, and an extremely special person. She is the kind of lady that can never do enough to help another person and just has a huge heart. Her husband Bruce saw that trait and married Chris two years ago, melding their-families. Photographs and collages fill the walls of their home, illustrating partnership, love and family. Chris' primary concern of no longer being able to kiss her husband will be a reality if the necessary funds are not raised.
Since Chris illness is concentrated within her jaw area, one of the diagnosis she received is TMJ or Temporomandibular Joint Disorder. TMJ is a dentally based orthopedic illness with medical manifestations. While some medical insurances do specifying treatment for this coverage of this disorder, Chris's does not. Diagnosis of TMJ is becoming more common, and insurance companies like the one Chris has are making these decisions in order to keep their total costs down.
Migraine headaches are something Chris contends with various other painful physical symptoms. In the meantime, Chris must endure the knowledge that treatment is available, yet unavailable to her treatment of this debilitating disorder.
Good to the Bone Productions has raised $1,100 via a Go Fund Me Campaign. . It is their hope that by bringing attention to what Chris is dealing with on a daily basis and allowing people to experience her life, their goal of $100, 000 can be acquired. Tickets are $5 at the door and available for purchase online at http://www.gttb.eventbrite.com.