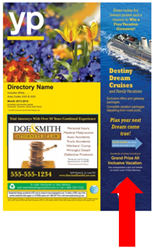 ...for just one advertiser nationally so it is first come first serve.
Burleson, TX (PRWEB) October 25, 2013
Never offered before, TMG is looking for one company with aspirations to get onto the front cover of YP, formerly AT&T's, entire yellow page footprint of over 1,100 directory titles. This equals almost 110 million printed copies for a total of more than 1 billion annual references (LSA April 2013, Burke Local Media Tracking Study 2012 Year-end).
For advertisers and advertising agencies in the national sales channel, YP has developed a new ad that creates a unique opportunity for national brands. It is called the Front Cover Tower Ad and was created as a way for a company with a nationwide sales footprint to be on the cover of YP printed books. It will be a mass distributed, cohesive brand message that consumers can take action on. The new ad is designed for a company to essentially put up a branded billboard into more than 70 million US households and 7 million US businesses (YP Directory Summary report, 2012; based on 2010 U.S. Census data).
"YP's new Front Cover Tower ad is similar to direct mail except it has a much lower cost per thousand and a much longer shelf life since it is an annual publication," explained Kelly Turner, CEO of TMG Digital Marketing Solutions, a directional marketing agency in the national sales channel. "It has the potential to be both a brand awareness and direct response advertisement. The Tower Ad will be seen by a huge audience across millions of households every time they reference their YP book for anything from air conditioning to zoos all year long," added Turner. "This opportunity will not last because YP designed the product for just one advertiser nationally so it is first come first serve. We feel that if we can get the message to the right potential advertiser, it is well worth it for them to give us a call."
For more information about the new YP Tower Ad, contact TMG Digital Marketing Solutions online here or by phone at 866 283 6970.