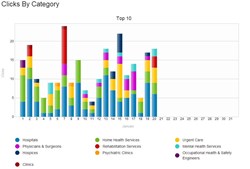 Though the concept of measuring marketing campaign data in order to learn from and adapt to consumer behavior is not new, the technology by which we do so continues to evolve. - Kelly Turner, CEO of TMG Digital Marketing Solutions
Burleson, TX (PRWEB) January 23, 2014
Leading-edge Texas-based firm TMG Digital Marketing Solutions today announced the release of a brand-new campaign analytics and data management platform to be used for its broad base of clients. Marking a strong start to the new year, the system has been implemented to help businesses streamline their responsiveness to consumer behavior and take on a leaner approach to marketing.
At the core of TMG's service offering is its longstanding commitment to accountability. With a focus on direct response, the company has helped scores of businesses advertise more wisely by keeping abreast of continual industry advancements. Its overarching goal is to provide the tools for clients to effectively hone their messaging using the right channels, thereby bridging the gap between advertiser and potential local customer. The new platform serves to further this vision by enabling the company to deliver detailed and timely executive campaign reports, which will provide for more accountable, targeted, and fluid campaigns.
"Though the concept of measuring marketing campaign data in order to learn from and adapt to consumer behavior is not new, the technology by which we do so continues to evolve," says Kelly Turner, President and CEO of TMG Digital Marketing Solutions. "We feel that key developments made recently will enable us to be more precise, timely and thus empowered to better target the right consumers in the right place at the right time. TMG and its clients will benefit greatly from enhancements in campaign measurement."
The recent integration is one of several crucial changes TMG has made in an effort to be an all-encompassing provider of digital marketing and advertising services. Paired with its roots in traditional advertising, the company's expertise in modern marketing allows it to serve clients in many capacities. Its ability to help businesses adopt digital marketing methods that have become necessary to thrive makes it a standout in the industry. As TMG reflects on a busy year dominated by a strategic expansion in service offerings, it looks ahead to a successful 2014 with client needs at the forefront of its priorities.
About TMG
Founded in 1986, TMG Digital Marketing Solutions has become a leading resource for businesses – large and small – looking for effective, accountable advertising and marketing services. Wholly dedicated to its clients' success, the firm uses its broad range of expertise to guide them through the selection, implementation, and tracking processes in a transparent and thorough manner.
TMG serves clients in the US, UK, and Canada, and specializes in the areas of mobile advertising, mobile website development, online business listing management, online directory advertising, print directory advertising, pay-per-call advertising and direct mail. For more information, please visit the company website at http://www.tmgdigitalmarketingsolutions.com.