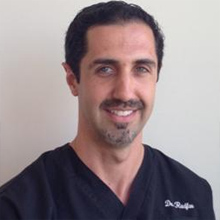 Thousand Oaks, CA (PRWEB) December 08, 2015
Thousand Oaks dentist, Dr. Dar Radfar, is now offering comprehensive TMJ treatment options. The TMJ is the joint that connects the lower jaw with the skull. TMJ disorders interfere with the proper function of this joint and can cause a wide range of problems and symptoms. Thousands suffer from TMJ every year, but treatment can restore comfort and a full range of motion to sufferers.
"Early TMJ is often characterized by grinding noises and feelings of friction in the jaw joints when patients open their mouth to eat or talk," explains Dr. Radfar's team. In later stages, TMJ pain can settle in the joints of the jaw, but it can also trigger more widespread pain, including facial pain, headache, neck ache, earache, and shoulder pain. The jaw may become difficult or impossible to open or close fully.
TMJ treatment is often focused on easing symptoms and treating the root cause. Dr. Radfar, a top Thousand Oaks TMJ doctor, will first determine if there are any underlying causes. This can include bruxism, a maloccluded bite or stress. Treatments to alleviate symptoms include:

Oral appliances to reduce bruxism
Medications to calm anxiety and depression
Orthodontic treatments to address bite irregularities
Corticosteroid injections to reduce inflammation
Medications to manage pain
Cool or warm compresses
Rest and physical therapy
"Untreated TMJ can lead to oral health problems and reduced quality of life," explains Dr. Radfar's team. Patients may be more vulnerable to tooth decay, loose teeth, root damage, infections and abnormal wear. As an experienced TMJ dentist, Dr. Radfar works with patients to create fully customized treatment plans that manage their symptoms and risk factors for lasting relief.
About Dr. Dar Radfar, Expert in TMJ in Thousand Oaks
Dr. Radfar is a graduate of USC's School of Dentistry and is California Board CE Certified. He is a member of the California Dental Association, the American Dental Association and the American Academy of Dental Sleep Medicine. He uses an integrated approach to address multiple dental issues and is active in continuing education so that he can continue providing his patients with extensive options.