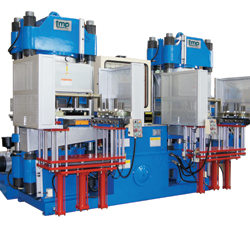 Piqua, Ohio (PRWEB) October 12, 2016
French Oil Mill Machinery Company, a custom hydraulic press manufacturer, introduced today a new cost-effective, standard hydraulic press product line, TMP Asian, for molding rubber and silicone components for a broad range of industries.
TMP Asian's durable hydraulic press models are available for three different molding processes and with a variety of mold openings to ensure the right solution for your manufacturing process. All TMP Asian presses feature sophisticated PLCs, delivering enhanced processing accuracy. At customer's request, light curtains may be added to all models.
The Vacu-Jet vacuum molding press series ranges from 200 to 500 ton models with platen sizes from 500mm to 900mm square. The Vacu-Jet hydraulic system incorporates two pumps with the ability to operate both presses simultaneously.
The Econo-Tech compression molding press series, also a two press system, ranges from 200 to 400 ton models with platen sizes from 550mm to 800mm square. The Econo-Tech presses feature multiple top opening plates, allowing more processing flexibility.
The Econo-Jet injection molding press series is offered in both horizontal and vertical designs with capacities from 25 to 600 tons. The Econo-Jet RIHH model is designed with the FIFO shot material method and delivers temperature uniformity +/- 3 degrees Celsius. Presses can be equipped with a silicone stuffer for customers processing silicone and other softer materials.
All presses are shipped directly from French's Piqua, Ohio, facility and are serviced by French's experienced team of technicians, reducing downtime concerns. The combined technology, cost effectiveness and dedicated aftermarket service support make purchasing TMP Asian a prudent choice for customers producing rubber and silicone components.
To learn more about TMP Asian hydraulic presses visit with French's Hydraulic Press Group representatives in booth 920 at the International Rubber Expo taking place in Pittsburgh, PA, from October 11-13, 2016. You may also visit the TMP Asian website, http://www.tmpasian.com.
French Oil Mill Machinery Company custom designs, manufactures and supports French and TMP brand hydraulic press systems for composite and rubber molding, laminating, forming and bonding products for a variety of industries. Presses generally range from 20 to 2,000 tons, with various heated platen sizes, for compression, transfer, lamination or vacuum molding. French and TMP engineers continually improve press designs through quality driven programs and with enhancements in automation and electrical control systems. French and TMP presses are well known for their superior value, low deflection, rugged construction and long life, all of which optimize the customer's process, improve part quality and deliver the lowest life cycle costs.