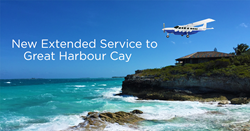 We are delighted with the introduction of an extra travel day to our Great Harbour Cay service. The route has proved very successful with our customers and the additional cargo requirements have now made it necessary to expand our service
Fort Lauderdale, FL (PRWEB) November 30, 2015
Leading Florida based airline, Tropic Ocean Airways, have announced the extension of their existing Great Harbour Cay schedule to include an additional travel day. The announcement will be welcomed by residents and visitors of Great Harbour Cay who regularly use this popular route.
Tropic Ocean Airways direct service from Sheltair's private terminal at Fort Lauderdale/Hollywood International Airport to Great Harbour Cay is one of their most successful routes. Currently operating a twice weekly service on Fridays and Sundays, the much needed Wednesday service will be introduced from 16 December 2015.
Tropic Ocean Airways founder and CEO, Rob Ceravolo commented "We are delighted with the introduction of an extra travel day to our Great Harbour Cay service. The route has proved very successful with our customers and the additional cargo requirements have now made it necessary to expand our service"
This popular route is currently served by Tropic Ocean Airways wheeled 2015 Cessna Caravan Ex aircraft. Equipped with the most advanced technology in its class, the 9 seater aircraft provides a first class travel experience to all guests. The cabin provides a luxurious interior and an advanced air conditioning system ensuring all guests travel in comfort.
Located just a short distance from the Florida coast and with a flight time of just one hour, Great Harbour Cay offers beautiful scenery and secluded white sandy beaches and coves. Visitors can enjoy the great opportunities for fishing and water sports or relax and recharge in the beautiful beach villas or the boutique hotel CarriEarl.
The new schedule from Fort Lauderdale to Great Harbour Cay, including the additional Wednesday service, will commence on 16 December 2015.
Wednesday
Depart Fort Lauderdale at 12:12 – arrival Great Harbour Cay at 13:12
Depart Great Harbour Cay at 14:00 – arrival Fort Lauderdale at 15:00
Friday
Depart Fort Lauderdale at 09:30 – arrival Great Harbour Cay at 10:30
Depart Great Harbour Cay at 11:18 – arrival Fort Lauderdale at 12:18
Sunday
Depart Fort Lauderdale at 12:12 – arrival Great Harbour Cay at 13:12
Depart Great Harbour Cay at 14:00 – arrival Fort Lauderdale at 15:00
The introduction of an additional travel day to the Great Harbour Cay schedule further reinforces the rapid growth and success of Tropic Ocean Airways since it was established in 2009. Their increasing fleet of wheeled and amphibious aircraft provides first class travel throughout Florida and the Bahamas.
Reservations can be made online or by phone on a price per seat rate. For further information please visit http://www.flytropic.com
About Tropic Ocean Airways:
Founded in 2009 by Navy Topgun graduate, Rob Ceravolo, the FAA certified Tropic Ocean Airways provides scheduled flights between South Florida and The Bahamas. Additional services offered include private charter flights, cargo and freight services and direct to yacht provisioning services. The fleet of amphibious and wheeled aircraft are handled by highly experienced military aviators and seaplane instructors.
For Media Inquiries please contact media(at)flytropic(dot)com or 800 767 0897 ext 113
For General Information please contact our reservations team
Email: reservations(at)flytropic(dot)com
Toll Free: 1-800-767-0897
International: 1-954-210-5569