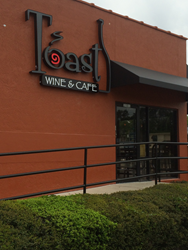 "We have tried to create a third place -- a neighborhood bar where people can meet friends, both old and new".
Tampa, Florida (PRWEB) April 10, 2014
Toast Wine and Cafe has opened the second Tampa area location with the addition of the newest wine and cafe in South Tampa, located at the corner of Manhattan and El Prado.
The South Tampa location will open early and serve a selection of breakfast items, featuring Roasted Locally coffee. Lunch includes gourmet sandwich selections and an Express Lunch Service. An extensive Wine by the Glass menu and fine wine selections are coupled with 12 Beers-On-Tap and a wide slection of craft beers. The nightly Tapas menu will compliment the wine menu.
In addition to the daily offerings, TOAST will host the popular "Meet The Winemakers Series", Open Mic Nights, Wine and Cavnas Events, Wine Dinners and regular wine tastings.
"Our partners have always focused on trying to create a place where the community can gather. I think we are going to see a return to these type of neighborhood bars and we are excited about being part of the revival", said partner John Armatas. Stone Pilkenton, General Manager added, "The outdoor patio will feature live music every Friday and Saturday night and our staff is here to make friends in the neighborhood and provide an really cool experience for our guests."
About Toast
Toast Wine & Cafe was created by a group of friends who love wine and good coffee. The goal was to capture a taste of the Wine Country while delivering value-priced, fine retail wines from around the world. There are currently two locations in Tampa. Toast North is located at 14921 Bruce B Downs Blvd and Toast South is located at 3501 South Manhattan.
Toast uses social media to share the most recent happenings and events. Like Us at http://www.facebook.com/toastusa or Follow us on twitter at http://www.twitter.com/toastusa