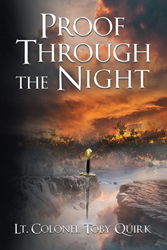 "The warriors recovered their stance and watched their flaming home tumble into the foaming surf around the blazing cross. The blade of the Sword of the Lord buried itself deep into the stone seabed, leaving the bejeweled hilt exposed—a memorial of the Lord's victory at Cielavista."
DALLAS, and BOSTON (PRWEB) December 19, 2018
"Now, Sandy, stand up and see what God has planned." With this line in his debut novel, Toby Quirk enlightens the protagonist and empowers her to have courage to fight. Amidst the war and chaos ongoing in America, the sweet land of liberty, Proof Through the Night offers hope to an outraged generation by unraveling and defeating the unseen powers behind it.
Proof Through the Night tells the story of a family that is caught in the middle of a conflict of supernatural forces—paranormal, demonic and angelic. Sandy, the protagonist, holds the power to see through unseen realms and marshals angelic forces to escape her grief. After the disappearance of her grandmother Gabriella, Sandy has to muster her courage and take over the battle between good and evil. She transforms into a combat commander who leads a band of heroic commandos.
Sandy's paramilitary defense force, the Task Force Saber, will battle against a horde of demon-possessed assassins sent by the Directorate, a board of depraved billionaires. It is a secret society driven by a perverted patriotic zeal holding paranormal powers that takes over and controls the minds of America's most influential institutions, politicians, professors, and doctors. Harrowingly, they have been successful in either molding Americans into a mindless herd of sheep or conducting mass killings of anyone who resists.
"We're in the hands of the Lord, my dear granddaughter," another line from the novel goes. It continues, "He's got plans for us that we don't always understand."
Written by Toby Quirk, this novel unfolds a gripping story of a deadly battle between good and evil for the soul of America. In fact, Toby writes from his expertise in merging military values and Christian virtues. He is an Airborne Ranger who served in Infantry units, Special Forces units and general staff positions for twenty-three years. Upon his retirement, he became an ordained minister and later planted a new church in Western Massachusetts and became a senior pastor in another church.
Today, he lives on Boston's North Shore with his wife Linda. He continues to be of service in God's army as a Chaplain at the Chelsea Soldiers' Home, a speaker and seminar leader with A Chosen Generation, a Fire chaplain in the Massachusetts Corps of Fire Chaplains, and an adjunct professor of ethics at Wentworth Institute of Technology. He also authored a memoir-devotional book titled A Squirrel in a Bottle.
Proof Through the Night by Toby Quirk is published by Elm Hill, a division of HarperCollins Christian Publishing. The novel is available in hardbound, paperback and eBook versions. For more information about the book and author, visit http://www.tobyquirk.com or http://www.proofthroughthenightbook.com.