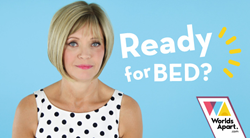 A survey by children's lifestyle brand Worlds Apart found that 1 in 6 parents said they found moving their toddler from their cot to their first big bed was the time they lost the most sleep.
St Columb, Cornwall (PRWEB UK) 9 July 2014
Parents will lose an average of 16 nights of sleep, per month, in the first three years of their child's life, a survey had found.
Researchers who carried out a detailed report discovered the incredible extent to which mums and dads have to struggle through broken night's sleep from the end of pregnancy through to their child becoming three years old.
Situations such as teething, bad dreams and the transition from cot to first bed will add to the total of days and hours of sleep lost during this time.
The survey by Worlds Apart also found that parents will get up for their child on average three times a night in the first three years.
Mandy Gurney, sleep advisor to the NHS, said: "This survey shows just how hard the first three years of a child's life can be for parents. And it's not just the obvious reasons why a child wakes such as a wet nappy and the need to be fed during the night.
''Many parents expect the broken night's sleep to stop after the first six months, but this survey has proved that it goes on for much longer than that, in fact well into the toddler and preschool years.
''Creating a bedroom environment that is friendly and familiar can overcome sleep difficulties that often occur at this age, as it will help your little one feel secure and snug."
Surprisingly, one in six parents admitted that moving their toddler from their cot to their first big bed was the time they lost the most sleep.
One in seven parents in the survey agreed that between the ages of two and three was the worst when it came to getting a full night's sleep.
And when their child was two to three years old, parents from the survey reported they were woken up an average of three times a night; only one less than with a new born to two year old toddler.
Parents found this particularly difficult, as three quarters of these mums and dads were back to work and into a routine.
Two thirds of couples found the amount of broken night's sleep they have to endure during the first three years of their child's life has added stress to their relationship.
While as many as seven in ten couples succumb to the stress of sleep deprivation leading to arguments, caused by the lack of sleep.
During the first three years of a child's life, it has been found that parents could lose half an hour of sleep a month, from putting their child back to bed after they've fallen or climbed out.
A further 16 minutes of sleep may be lost a month simply because the toddler doesn't feel safe in the bedroom environment.
And mums and dads spend 18 minutes a month getting their child used to unfamiliar surroundings that prevents them from sleeping.
Losing a dummy, being scared of the dark and hearing other children walking around were also found to be regular reasons for parents being woken up at night.
Mandy Gurney added: ''Bringing up a child can be very stressful for parents, and anything that helps them get through this time will have a positive impact on family life.
''As this survey has highlighted, sleep problems extend far beyond the first year of a child's life.
''The move from a cot to their first big bed often causes difficulties. If parents follow a few guideline suggestions, the disruption to family life can be far reduced during this time.
''Ensuring the room is ready, and choosing an age-appropriate toddler bed that is smaller and much lower to ground than a single bed will make the transition far easier.
''A toddler bed will feel not only cosy, but with protective sides, it is a safe step towards a big bed helping to prevent your little one falling out.
''Your toddler will love a cosy and child friendly bedroom environment that means they will be eager to get to bed. After a quiet, brief and winding down bedtime routine and a story or two, snuggle them down to sleep in their toddler bed, kiss goodnight and leave them to drift off to sleep independently."
To learn more about how to move your toddler from a cot to toddler bed, develop a sleep routine and avoid toddler sleep problems, download Mandy Gurney's free Toddler Sleep Guide on http://www.worldsapart.com/readyforbed.
ENDS