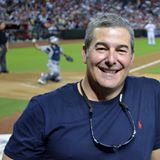 If you are willing to embrace an attitude of excellence and have a desire for improved performance, you can triumph in your business endeavors.
(PRWEB) August 11, 2014
Todd McBroom has spent the last several years writing and speaking about a topic very close to his heart: the struggles and triumphs of the successful entrepreneur. As a young man, Todd came from an economically challenged family and learned early about the value of hard work. Through the years, he has owned multiple businesses, and his successes and failures have taught him even more about operating a company successfully and how to continually improve performance.
"If you are willing to embrace an attitude of excellence and have a desire for improved performance, you can triumph in your business endeavors," says McBroom. "However, overcoming obstacles and staying the course can be lonely. This is why I speak to groups; I want to inspire others who are going through the same struggles I did and let them know they are not alone."
God Was Self-Employed, Todd's latest book, delivers this message in a larger context and through the use of Scripture. For those who want to find freedom in any area of life, not only business, the theme of this book is simple: universal principles of self-confidence and hard work apply to every person at every age and in all walks of life.
Todd has spent the last few years involved in speaking engagements at churches or for network marketing meetings. He has an extensive history of training and motivational speaking in the marketing industry and has now decided to take his expertise to the corporate world. Using the laws and principles in God Was Self-Employed, Todd is available for corporate training, meetings and workshops. He is also an expert in sales training, having held the top sales position in every company he has worked for and the number seven position nationally for Vermeer.
He teaches on the law of attraction, self-image, overcoming adversity and relationship marketing. "Sales With A Business Owner Mentality" is one of his most popular topics. According to McBroom, most people sell from an employee mindset and are not able to demand respect and credibility. In order to do so, according to Todd, sales people must think like a business owner and communicate appropriately, not just have a conversation.
Todd McBroom is available for speaking engagements to groups of all sizes. He has spoken to groups of more than 10,000 and small gatherings of just a few. For more information on booking Todd as a speaker, contact Shannon Lutz from Next Century Publishing at Shannon(at)NextCenturyPublishing(dot)com or call 702.912.2405.
About Todd McBroom:
Todd McBroom is a Christian, husband and father, entrepreneur, author, and speaker. He often uses lessons in the Bible to enhance his own teaching, endeavoring to help people deal with and succeed in the real world. Todd hopes to inspire others to take advantage of the many opportunities offered to them through his unique combination of expertise in both business and ministry.
For more information, please visit ToddMcBroom.com or connect directly with Todd at toddmcbroom(at)gmail(dot)com, 337.349.6426.