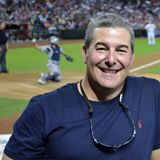 I help people determine what they want, why they want it and what they are willing to give up to get it.
(PRWEB) October 20, 2014
Todd McBroom wants to inspire others to want to think. A believer in applying the knowledge that one has, he thinks simply having or gaining it without taking action will lead to frustration. As a personal and business coach and the author of God Was Self-Employed, McBroom is accustomed to helping others finds the tools they need for success.
One way Todd McBroom assists others is during his Wine on Wednesdays sessions. Every Wednesday night, he hosts a half hour webinar that consists of twenty to thirty minutes of teaching, followed by questions. McBroom encourages those taking part to have a glass of wine, sit, and unwind from their day, while listening and learning valuable information that they can use to elevate both their lives and their personal careers. Wine on Wednesday sessions are a great way for prospective clients to gain a free introduction to what Todd McBroom's personal coaching is like and determine whether they'd like to work with him one on one.
Personal coaching with Todd McBroom commonly uses his four-week series, "Self Worth Before Net Worth." After these four lessons most people take what they've learned and, with his help, apply it to their own life to get what they desire. However, coaching is flexible; McBroom says, "I help people determine what they want, why they want it and what they are willing to give up to get it." Coaching begins there, and is different for each person. Says McBroom, "Until you know where you're going you're not going to know how to get there."
To be a part of Wine on Wednesdays, listeners must email Todd McBroom at ToddMcBroom(at)Gmail(dot)com or 337.349.6426. He will then send the I.D. code for access to the call.
About Todd:
Todd McBroom is a Christian, husband and father, entrepreneur, author, and speaker. He often uses lessons in the Bible to enhance his own teaching, endeavoring to help people deal with and succeed in the real world. Todd hopes to inspire others to take advantage of the many opportunities offered to them through his unique combination of expertise in both business and ministry.
Author of God Was Self Employed which launched through Next Century Publishing in Summer 2014.
http://godwasselfemployed.com/