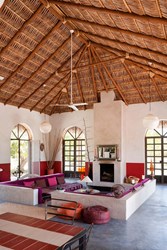 Start the day with yoga, then go to the beach to surf or swim, have lunch on the beach, then come back home to take a nap in a hammock or read a book. I could stay here a month and not get bored...
Berlin, Germany (PRWEB) September 23, 2013
Welcome Beyond has added Casa Encanto in Todos los Santos, Mexico, to its collection of unique vacation properties worldwide. Surrounded by sweet smelling fruit trees and just a stone's throw away from the beach, the vacation villa sits on 5 acres of private grounds and represents the typical casual lifestyle of Baja California.
Uniting interior styles from Morocco, Mexico, Spain and Bali, Casa Encanto is a one-of-a-kind hideout for a fun and relaxing vacation. "It's a mixture with a very casual, laid-back feeling, but it's also very personal. The house was not designed as a rental, but for me personally", owner and interior designer Sylvie states.
Every room at Casa Encanto is in a separate house. Sylvie started with a palapa-roofed main building and just one bedroom; today the house features four. The master bedroom includes an indoor and outdoor shower as well as a private bathroom. The size and room arrangements are ideal for family or group rentals. The main building has a living room, a kitchen and a dining room. With high ceilings, a sunken couch and large 360° windows it is the perfect place to hang out and relax. The caretaker, besides managing the property, is also an excellent chef.
Todos los Santos, which is within walking distance from the villa, is a quiet village close to nature, where temperatures are never too cold or too hot. The small town features interesting art galleries, delicious restaurants from all over the world and great bars to enjoy an ice-cold margarita and the beats of live music.
The area boasts high waves great for surfing and amazing yoga spots. Guests also have the choice to go hiking, mountain biking, fishing, horseback riding or swimming. Sylvie also recommends to rent a boat and take a guided trip around the national park island Isla Espirito Santo, where guests can swim with sea lions and dolphins. Only an hour away is the city of La Paz on the Sea of Cortez, providing a completely different atmosphere and Caribbean-like beaches.
Find out more about Welcome Beyond's newest addition Casa Encanto and other luxury vacation rentals and small boutique hotels on Welcome Beyond.