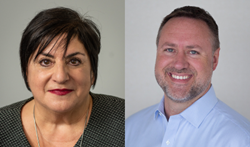 The leadership at Togetherwork is thrilled to have Mike and Jean on the team to help us scale for growth.
NEW YORK (PRWEB) March 21, 2019
Togetherwork, the emerging leader in Group Management Software and Payments, today announced that two new senior executives have joined the leadership team: Mike Ressel as Chief Operating Officer, and Jean Kanarian  as Chief Sales Officer.  Mr. Ressel and Ms. Kanarian join Togetherwork at a time of rapid expansion and will leverage their extensive experience to provide operational and sales leadership for continued growth.
Mr. Ressel brings over 20 years of leadership experience within the enterprise software and financial technology spaces.  Immediately prior to joining Togetherwork, Mike served as a General Manager with Aptean, a company owned by Vista Equity Partners, where he was responsible for leading the company's ERP and Supply Chain Management lines of business. Prior to that, he held leadership roles across various functions at Aptean, including Professional Services and Global Operations.  Earlier in his career, he spent more than a decade with CheckFree, Fiserv and Banc One in roles that ranged from product management to corporate strategy and business development.
Ms. Kanarian has more than two decades of sales management and executive leadership experience at organizations ranging from Fortune 100 companies to start-ups in financial technology.  Before joining Togetherwork, she founded and led the Sales Practice as a Senior Partner at SMR, a financial consultancy. Prior to that, she spent four years transforming the growth strategy as CashEdge's SVP of Sales, culminating in the successful sale to Fiserv, and 14 years as an American Express executive leading sales, client management and implementation teams. 
"The leadership at Togetherwork and I are thrilled to have Mike and Jean on the team," said Neil Platt, CEO of Togetherwork. "Jean's depth of experience growing companies, leading teams and engaging customers will further elevate our growth execution capabilities at Togetherwork. Additionally, Mike's history as an industry leader in developing enterprise-wide efficiencies will help us scale appropriately for our future expansions."
About Togetherwork
Togetherwork is a leader in software and payments for groups and organizations of all kinds, helping them grow, become more efficient, increase revenues, and provide excellent service to their members and constituents. Togetherwork's operating companies serve multiple verticals including fraternities, sororities, religious congregations, sports leagues, summer camps, charities, and cultural and educational institutions. Togetherwork has more than 450 employees. The company is headquartered in New York City. To learn more about us, please visit: [http://www.togetherwork.com.