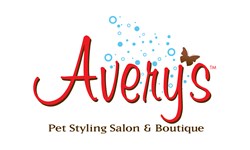 "No one moves forward solo. We all need each other." - Taria Avery, CEO and Founder of Avery's Pet Styling Salon and Boutique
Philadelphia, Pennsylvania (PRWEB) September 30, 2013
Although the pet care industry has grown exponentially over the past five years, many pet grooming salons have not experienced the same uptick. However, Taria Avery's mobile pet grooming spa, Avery's Pet Styling Salon and Boutique, is trending with the industry and she was recently interviewed by Grooming Business Magazine's Jennifer Bouncy to share her keys of success for its August/September issue.
To her pet parent clients Avery is known for her bubbly personality, extensive knowledge on pet health and wellness, and most importantly for returning their fur-kids to them happy and fresh. However, this Grooming Business feature opens up and highlights a side of the Founder and CEO that many do not get a chance to see often, Taria Avery "the businesswoman."
In the article, Avery discusses the meticulous strategic planning that allows her mobile grooming fleet to service thousands of pets each year. She stresses the importance of cultivating professional relationships, being nimble and understanding map routes to better efficiency, and above all else, offering quality service and client care.
Bouncy also spotlights Avery's commitment to investing in comprehensive training for the Avery's mobile pet spa grooming team. In the article Avery states, "If you come to me a diamond in the rough, I will polish you in no time." She continued saying, "It's about empowerment and being in a supportive place knowing that you can do it, I am behind you and the team is behind you," when referring to the supportive culture promoted at Avery's mobile pet spa. And when confirming her reason for this philosophy, she concludes emphatically with, "No one moves forward solo. We all need each other."
To read the full "To Higher Ground" article visit Grooming Business Magazine.
More About Taria Avery of Avery's Pet Styling Salon & Boutique:
Taria Avery's mission is to provide peace of mind for the pet parent by enhancing the health and wellness of their fur-kids with tender loving care. She is the President and CEO of Avery's Pet Styling Salon and Boutique, a state-of-the-art mobile grooming salon servicing the Greater Philadelphia metro area and southern New Jersey. She holds certifications in many key areas including CPR and first aid for animals, nutrition, animal behavior, aromatherapy, etc. Taria has been featured as a pet grooming expert for various media outlets including 6ABC News' TV program "FYI Philly", Philadelphia Magazine, Pet Business, Grooming Business, Pet Product New International, Philadelphia CN8 Network "Your Morning" show, KYW NewsRadio 1060, The Philadelphia Tribune and Philly Fit magazine. Her areas of expertise include the state of the pet industry, groomer certifications and tips for pet parents on selecting a groomer.
To contact Taria Avery for speaking engagements, advice columns or features please email taria(at)averyspetstyle(dot)com.
Click here to watch Taria Avery featured on 6 ABC News' "FYI Philly."
Click here to watch Taria Avery discuss tips on selecting a pet groomer on CN8 Network's "Your Morning Show."
Click here to view Philly.com photo slideshow on Avery's Pet Styling Salon and Boutique mobile pet groomers.
More About Avery's Pet Styling Salon and Boutique:
Avery's Pet Styling Salon & Boutique is a multi-award winning mobile grooming salon for dogs and cats servicing the Greater Philadelphia metro area region and southern New Jersey. Avery's pet groomers and stylists are prepared to pamper dogs and cats of every breed with high quality eco-friendly spa treatments and a keen eye on the fur-kid's health. Avery's Pet Styling Salon and Boutique is for pet parents who want to rely on professionals to simplify their pet care decisions and while enhancing their modern lifestyle. Each fur-kid receives special individualized attention from Avery's team of Certified Professional Pet Groomers and Stylists. Avery's salon was named "Best Mobile Dog and Cat Groomer" in the region in 2011 by Philadelphia Magazine.
###