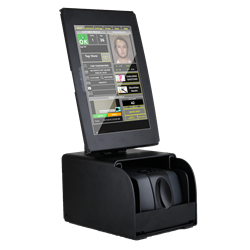 Ideal Fake ID Detector for Casino Security Operations
BRONXVILLE, NY (PRWEB) April 01, 2019
TokenWorks is demonstrating the new IDentiFake® Plus Fake ID / Age Verification solution at the Indian Gaming Tradeshow & Convention at the San Diego Convention Center, April 1-4, 2019. The IDentiFake Plus comes with a Hard Anodized Aluminum Protective Case that protects the E-Seek M-500 Scanner and can be viewed at the E-Seek booth, No. 2407.
"Fraudulent IDs, mostly from overseas vendors, are in widespread use by minors and many have become extremely difficult to detect without the proper tools. Organizations who risk substantial fines and/or penalties such as Casinos have been upgrading from barcode based age verification technology at an increasing rate for the past few years. The M-500 is the scanner of choice for the Casino market due to its fast scan speed and low maintenance." says Charles Cagliostro, President of TokenWorks.
IDentiFake Plus determines authenticity by comparing images to a library of authentic IDs and known fakes, performing forensic checks of holograms, micro-printing, ultraviolet and infrared images and other document specific security features. The continuously updated library of over 6,000 identification documents from 196 countries and all 50 states, including driver licenses, state IDs, national IDs, military IDs, voter cards, resident cards, visas, border-crossing cards, Government: PIV, CAC, and TWIC cards and passports (with optional passport reader) is the largest in the industry.
Multiple IDentiFake and mobile ID scanners can be networked with IDVisor Sync, which can be run locally or as a cloud service. All scans are date/time stamped, establishing due diligence and allowing synchronization with security, video surveillance or other systems. A Security Management Console allows security departments to centrally monitor all scanners, download Problem Gambling/Self-Exclusion and other lists and setup email notification groups for events such as VIP arrival, banned person, etc. Securely, centrally collected scan data can be used for creating reports for regulators and/or exported to existing casino systems.
The newest TokenWorks Forensic ID Scanning solution is available now.
Visit booth 2407 at the Indian Gaming Tradeshow & Convention for an IDentiFake Plus demonstration or learn more at http://www.IDScanner.com.
About TokenWorks®
TokenWorks, Inc. manufactures and empowers advanced age verification and ID authenticity solutions, matching best-in-class hardware and custom-developed software elements to create solutions that help businesses gain confidence and accuracy in their ID Scanning practices. In business since 1998, TokenWorks serves tens of thousands of customers across the US and Canada. For more information, please visit TokenWorks.com or its ecommerce store at IDScanner.com.