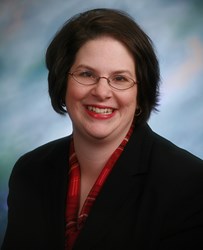 Swan Creek has a stellar reputation in the Toledo area, and I'm ready to serve my residents and staff.
Toledo, Ohio (PRWEB) October 23, 2013
Swan Creek Retirement Village has selected an accomplished executive to lead the Toledo continuing care retirement community.
Ann Roller took over as executive director and the campus' licensed nursing home administrator on Wednesday, Aug. 28, 2013.
Roller brings 15 years of long-term care experience to Swan Creek Retirement Village. She completed an internship with OPRS Communities, which owns and operates Swan Creek, while earning her license as a nursing home administrator. She served as the administrator for OPRS Communities' Dorothy Love Retirement Community for seven years and was promoted to executive director in 2006.
At Swan Creek, she's responsible for day-to-day operations, resident communications, growth and development, budgets, quality assurance, outreach, board relations and staffing.
The campus includes villa and apartment homes, assisted living apartments, a rehabilitation center and a health care center.
"I am delighted Ann accepted the position in Toledo," says OPRS Communities President Daniel J. O'Connor. "She's a solid, experienced leader who is approachable and sensible."
Roller succeeds Jean Morgan, who remains with OPRS Communities as the executive director of Cape May Retirement Village in Wilmington, Ohio.
"Swan Creek has a stellar reputation in the Toledo area, and I'm ready to serve my residents and staff. My door is always open," says Roller. "Part of the master plan for this campus includes an updated health care center and assisted living area, and I'm excited to guide these future enhancements."
Roller has served as LeadingAge Ohio's west regional director and also as a member of the organization's nominating committee. She is a past president of the Sidney Altrusa Club and also was on the Business and Industry Board for the Miami Valley Career Center in Piqua, Ohio.
She is a graduate of the Franciscan University of Steubenville and holds a Master of Gerontological Studies from Scripps Gerontology Center at Miami University in Oxford, Ohio. Roller is a native of Piqua. She and her husband, Ted, have two children, Cameron and Benjamin, and now call Ottawa Hills, Ohio, home.
She can be reached at Swan Creek Retirement Village, 5916 Cresthaven Ln., Toledo, Ohio, 43614, 419-865-4445 or aroller(at)swancreek(dot)oprs(dot)org.
About Swan Creek
Swan Creek Retirement Village is one of 11 retirement communities owned and operated by OPRS Communities, a wholly-owned subsidiary of Ohio Presbyterian Retirement Services (OPRS), headquartered in Columbus. Since 1922, OPRS has defined the highest standards of quality of life for older adults. Each year, OPRS serves more than 90,000 people through its wholly owned subsidiaries OPRS Communities and Senior Independence. Another wholly owned subsidiary, the OPRS Foundation raises several million dollars annually to support charity care, special programs, capital expansion and endowment.