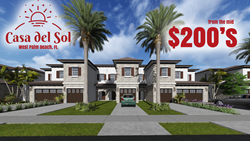 "We wanted to provide an "all-inclusive" product that customers wouldn't feel as if they were being "nickeled and dimed" on the price. - Hilary Reid Managing Partner
West Palm Beach, FL (PRWEB) May 11, 2016
LandAmerica Holdings and Investment Group, LLC, a custom real estate developer and builder based out of Ft. Lauderdale, FL, is set to begin developing, Casa del Sol, an affordable 34 unit Luxury Townhome community in West Palm Beach, FL, in June 2016. LandAmerica specializes in building hurricane proof homes and maintenance free communities, designed to enhance and retain property values.
Casa del Sol West Palm Beach will feature two different model types. The Isabella, 1,786 AC sq. ft (2,067 Total sq.ft.) 3 bedroom with a loft, 2.5 bathroom and one car garage. The Victoria model, 1,935 AC sq.ft (2,373 Total sq.ft.) is a 3 bedroom with loft, 2.5 bathroom, plus optional den, and 2 car garage. The Isabella will start at $249,000 and The Victoria will start at $269,000. Both models are expected to include standard features that are generally considered upgrades with most other builders. Some of these features are Hurricane Impact windows and doors, stainless steel appliances, designer tile and more.
"We wanted to provide an "all-inclusive" product that customers wouldn't feel as if they were being "nickeled and dimed" on the price. As a developer, it's frustrating to see builders advertise one price and then when it's all said and done, consumers end up paying, sometimes, 50% more than what was advertised (because of lot premiums and upgrades). While we also offer upgrade options, they are minimal since our standard building package is very comprehensive" says Hilary Reid, managing partner at LandAmerica.
Casa del Sol will be constructed using a Form Ready system. This construction method is said to be far superior to wood frame and even CBS (Concrete Block Stucco) because all walls on a form ready system are poured solid concrete on site. Vincent Prince, managing partner at LandAmerica Holdings said, "it was important to us to build a product that exceeds current and future energy requirements. Because of their thermal mass, concrete homes create energy savings and reduce air infiltration as well as external noise."
LandAmerica has chosen Palm Beach real estate firm, Tolliver Prince Realty to head up sales for the Casa del Sol West Palm Beach community. Tolliver Prince is no stranger to developer representation. Tolliver Prince Realty recently sold out St. Paul Estates, a 27 single family home project in just 9 months. "Steve and John (Steve Prince and John Tolliver) have tremendous experience with appraisals, mortgages and of course real estate sales. We feel these three attributes are a no brainer and which is why we have decided to partner with them." says Vincent Prince (no relationship to Steve Prince).
Reservations for Casa del Sol West Palm Beach are now being accepted. For more information about this new community and to view floor plans, please go to http://www.casadelsolwpb.com. You can also register by clicking here.
Tolliver Prince Realty can be reached at 888-887-2532, by email at info(at)tolliverprince(dot)com or online at http://www.tolliverprince.com.
Media Relations
888-456-9219