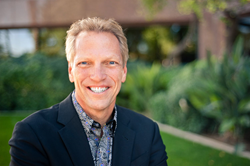 With proper planning, rental real estate can create huge tax reductions for your business and salary income. ~ Tom Wheelwright, Tax-Free Wealth Author
Tempe, AZ (PRWEB) May 19, 2015
Tax-Free Wealth Author Tom Wheelwright will present tax tips on how to plan, build long-term wealth, and never pay tax on real estate investments at the first virtual CASHFLOW Wealth Summit May 20-21, 2015. During this financial education event, Tom will explain four real estate investment success keys, including how to use like-kind exchanges, depreciation, tax-free loans and tax elimination.
As 1 of 8 Rich Dad Advisors, Tom often quotes Best-Selling Author Robert Kiyosaki ("Rich Dad Poor Dad") for saying, "Debt and taxes will make you rich." To successfully leverage debt and taxes, Tom recommends having a great tax advisor who understands real estate investing and the tax laws.
In "Tax-Free Wealth", Tom Wheelwright emphasizes, "Real estate is such a good tax shelter that a serious real estate investor should never have to pay taxes on their cash flow or on the gain from the sale of their real estate." Tom adds, "With proper planning, rental real estate can create huge tax reductions for your business and salary income."
As CEO of ProVision Wealth, Tom's team works with successful small businesses and entrepreneurs in 30 countries. To help these business leaders build long-term wealth strategies, Tom's top four success keys for tax-free real estate investing include:
1. Shelter cashflow using Like-Kind Exchanges – To shelter real estate investment cashflow from taxes, an investor can buy like-kind properties through tax-free exchanges, also referred to as a Section 1031 exchange. In this case, an investor can buy a second property without paying tax on the sale of the first property.
2. Use Like-Kind Exchanges + Depreciation + Debt to never pay tax on real estate – By combining a 1031 like-kind exchange with depreciation deductions, an investor can avoid taxes on both the cash flow and gain from a real estate sale. Through a tax-free exchange, the investor not only avoids tax on the gain from the real estate, the investor also gets to use the bank's money to purchase the property and get all the tax basis and depreciation. The bank does not get any of it. To ensure success in this process, Wheelwright emphasizes the importance of working with a great tax advisor.
3. Borrow cash with Tax-Free Loans – Wheelwright adds that the beauty of real estate is that it's the easiest asset to borrow against. An investor can always borrow from a bank through a refinance and pay no tax on this debt. The cash is a tax-free loan plus the investor can keep the real estate asset and tax deductions that go along with it.
4. Eliminate tax on real estate gains completely – To avoid real estate taxes completely, an investor can benefit from depreciation deductions while alive, hold the property until death, and then the heirs will not have to pay any tax.
For a timely interview on real estate tax and wealth strategies, please contact:
Media Contact
Liz Kelly
Goody PR
310-987-7207
About the CASHFLOW Wealth Summit (May 20-21, 2015)
30 financial education speakers will be presenting cashflow tips at this special CASHFLOW Wealth Summit event, including the 8 Rich Dad Advisors (Ken McElroy, Lisa and Josh Lannon, Blair Singer, Andy Tanner, Garrett Sutton, Darren Weeks, Tom Wheelwright) and Kim Kiyosaki ("Rich Woman"). Anyone can attend this virtual event for free with a RSVP here http://cashflowwealthsummit.com
About
As "Tax-Free Wealth" Author, CPA and CEO of ProVision Wealth(Tempe, Arizona), Tom Wheelwright is a leading tax and wealth expert and speaker. Tom is best known for making taxes "fun, easy and understandable", and specializes in helping entrepreneurs and investors build wealth through practical and strategic ways that permanently reduce taxes. Tom is also a Rich Dad Advisor/Speaker for Robert Kiyosaki, who wrote "Rich Dad Poor Dad." He is the Founder of WealthStrategyU, and has been featured in Investor's Business Daily, Accounting Today, Deseret News National, Huffington Post, Phoenix Business Journal, CEO Blog Nation, and as a guest on the AZTV The Morning Scramble, ABC Radio News, AM870 The Answer, Real Estate Guys Radio Show and Money Radio 1510 Business for Breakfast. http://taxfreewealthadvisor.com
and Tax-Free Wealth book http://bit.ly/taxfreewealth