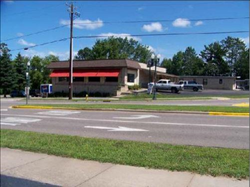 Milwaukee, WI (PRWEB) August 28, 2014
In the north central Wisconsin town of Tomahawk is a 3,500-square foot restaurant property that has not only hit the open market, but is slated for auction during Micoley.com's 200-property September 27th online event. An excellent property to add to a restaurant or commercial portfolio, this bar and grill was built in 1960 and remains in excellent condition, with all kitchen equipment installed and ready to go.
The bar area seats 21, there are another four tables with a total of 17 seats, and there is another large banquet room for private parties with its own bar and eating area. The restaurant is situated at a great location right next to a major thoroughfare and has extra parking. The property is listed at $295,000 with a minimum bid of $185,000 if no offer is received by the September 27th auction.
Tomahawk is a relaxed and friendly small-town community that skews heavily towards outdoorsy activity (e.g., camping, paintball, golf) during the summer months and towards skiing during the winter. The restaurant's full address is 433 S Tomahawk Ave Tomahawk, WI 54487 in Lincoln County.
This property has motivated, high-energy sellers entertaining early bids, meaning that although it is scheduled for auction, it may very well sell before that date arrives. Potential buyers would be well advised to begin researching as soon as possible if this property piques their interest. Indeed, the property, along with the full spread of September 27th offerings -- which also include residential homes and vacant land -- can be viewed by visiting micoley.com.
Interested parties should visit micoley.com to find photos and details about the properties, or by visiting in person and performing an inspection on site, which is highly recommended. 1-866-371-3619 is Micoley.com's information line. Additionally, Micoley.com features a live chat service through which questions can be answered.
About Micoley.com:
Green Bay, Wisconsin-based Micoley.com is a real estate marketing firm specializing in project focused auctions of bank-owned properties throughout the United States. The Micoley.com approach to real estate marketing tailors each auction plan to the client's individual needs. The site is constantly being updated for the benefit of buyers, as large-scale auction events are held monthly, and new properties are added daily. Broker Wade Micoley #43327-90. Broker Firm WM Enterprises, Inc. #835181-91. Auctioneer Wade Micoley 32647-052.