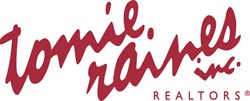 My QSC rating paves the way for building trust and confidence from the very start.
East Lansing, MI (PRWEB) January 14, 2014
Transparency in the real estate world seems to be a very hot industry discussion right now. According to the National Association of REALTORS® website, NAR has started testing an agent rating program based only on client reviews in the last year and yet it was over eight years ago that Tomie Raines, Inc. REALTORS, a leader in the greater Lansing real estate market since 1977, became one of the first real estate companies to offer the Quality Service Certified® rating system. They have expanded their use of customer feedback with ratings and verbatim comments posted on tomieraines.com, QualityService.org, and now RatedAgent.com.
Eight years later, it is still mandatory that all Tomie Raines, Inc. agents opt into the Quality Service Certified program which allows the REALTOR to be rated openly online, whether good or bad. The president and owner of Tomie Raines, Inc., Debbie Barnett, was ahead of the curve when it came to the concept of total service transparency, as most companies still don't want to allow for negative comments on their websites. "High standards in customer service and accountability have always been important to me and I want to be sure that our agents, who are all independent contractors, feel similarly," said Barnett. "Using the QSC rating system, I can monitor how my agents are serving their clients. I can even coach an agent who may have received a lower score for a particular service issue, which offers our agents the chance to continually grow and improve."
"My QSC rating paves the way for building trust and confidence from the very start. The QSC reviews and ratings are from my past clients who were surveyed by an independent, unbiased, and trusted source and consumers connect to my business because they can see my proven track record of success and results," said Lisa Fletcher, Realtor®, Associate Broker, ABR®, CNE®, CRS®, E-Pro®, GRI, SRES, QSC®.
Debbie Barnett's business influence extends beyond real estate. She recently returned from the Small Business Association of Michigan's Leadership Council meeting, where she is one of approximately 100 business leaders selected out of over 21,000 members to help guide the association. Ms. Barnett is a 27 year industry veteran, has been an area resident for over thirty years and has had a controlling interest in the business for eleven years.
Tomie Raines is located at 1400 Abbot Road, Suite 200, East Lansing, MI, 48823.
For more information, please call 866-351-3617 or visit http://www.tomieraines.com or their blog at http://www.tomieraines.com/Blog.
About Tomie Raines, Inc. REALTORS
Tomie Raines, Inc. is a full service real estate broker serving the mid-Michigan area including Lansing, East Lansing, Okemos, Haslett, Dewitt, Williamston, Grand Ledge, Mason, Holt, and all of greater Lansing. They are a leading independent real estate brokerage in Michigan and are a member of Leading Real Estate Companies of the World®. All of their real estate agents are Quality Service Certified®.
About NALA™
The NALA helps local business owners by offering new online advertising & small business marketing tools, great business benefits, education and money-saving programs, as well as a charity program.
PR Contact:
ttendell(at)thenala(dot)com
805.650.6121, ext. 361