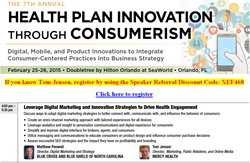 Tom Jensen Director of marketing, public relations and online media - Mercy Health System, Lake Geneva, Wisconsin
Lake Geneva, WI (PRWEB) January 01, 2015
Tom Jensen, director of marketing, public relations and online media at Mercy Health System in Lake Geneva, Wisconsin, will be a co-presenter at the World Congress of Health Care's 7th Annual Health Plan Innovation Through Consumerism Event in Orlando, Florida, on February 25 and 26, 2015.
Jensen will be part of a discussion on ways to adopt digital marketing strategies to better connect with, communicate with, and influence the behavior of consumers.
Highlights of the seminar will include:

Create an omni-channel marketing approach with tailored experiences for all devices
Leverage analytics and insight to personalize communications and digital experience for consumers
Simplify and improve digital interface for brokers, agents, and consumers
Utilize messaging and communications to educate consumers on product design and influence consumer purchase decisions
Assess successful SEO strategies and the impact they have on profitability and branding
Registration information for this seminar can be found at http://www.TomJensen.net
Interested participants can utilize Tom Jensen's Speaker Code XEF468 for a seminar registration discount.
Jensen speaks at national, regional and local events on the topics of marketing and online strategies. He is also an instructor and class developer at Southern New Hampshire University.